Ability Categories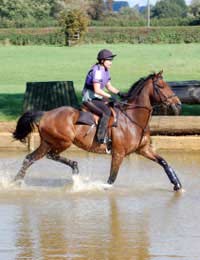 When you start to look for a riding school, classes may well be categorised by ability. If you have ridden before, as a child, and have a limited amount of knowledge this can be confusing as to which category to enrol in. People who rode in the Pony Club as a youngster and maybe even progressed to jumping will not necessarily be able to pick up where they left off, and therefore will want to know which class is for them. Classes are usually progressive so you should generally assume you will need regular lessons to keep up with others in the class and actually learn things rather than repeat the basics over and over again.
Private Lessons
Private lessons are usually classed as one on one lessons with a teacher, although some places will offer private group lessons too, where you can enrol with a group of friends or in a very small group class where the teacher spends more time with each rider. But a one on one lesson, while being the most expensive option, is often the most useful especially for a beginner. It means the rider has the undivided attention of the teacher and will be able to work on whatever they want. If they are stuck on a particular skill, the instructor will not move on to the next thing until the rider feels 100 per cent confident with it and is happy to move on.
As well as absolute beginners, nervous riders usually find one on one lessons useful and less intimidating than being in a group. But more advanced riders may also want to take private lessons if they want to work on a precise detail of their riding which cannot be focussed on in a group lessons.
Beginner Classes
If you see a beginners' class advertised, it will usually mean absolute starters. These will be the lessons to sign up for if you have never ridden at all before and need to learn everything, starting with mounting and dismounting, and everything else from that point.
The lessons for beginners are often shorter in terms of time than other lessons. This is due to the inexperience beginners have in the saddle. If someone who is not used to riding rides for more than half an hour, they will become very sore and stiff which is no good for the rider and no good for their capacity to learn.
Some riding schools will refuse to teach absolute beginners in a group, preferring them to have individual lessons for the reason stated above.
Novice Classes
Schools often hold novice classes. These are aimed at people who have begun to ride but have not mastered much other than the absolute basics. They can usually mount and dismount by themselves and will be able to control the horse. People in these groups will generally want to learn the next skill up; this may be trotting, or if they have mastered that, then cantering.
Intermediate Classes
Intermediate classes are aimed at confident riders who can control their horse in a gallop, as a general rule. They are usually people who do not own their own horse or have recently bought a horse and are trying to improve their riding to make the most of it. If you have not yet progressed to riding every day but are aiming for that, then an intermediate class is where you should look.
Advanced Classes
Riders who know what they are doing can still have lessons, and lots of schools will run advanced classes for these people. You may want instruction on the finer points or your riding or you may be aiming to compete in jumping or eventing or another equestrian sport. It is at this point that your instruction becomes less like teaching and more like coaching as you really get to grips with riding as a sport.
Of course, different schools will use different names for the classes they run. The school will also be able to give you more information on their classes and who they are aimed at. If you are not sure which class to go for, always err on the side of caution. You can always change classes if you find the one you have chosen is too easy. But if you have chosen one too advanced and you take a tumble or get injured, it could put you off riding altogether.
You might also like...