Tackling Your First Jump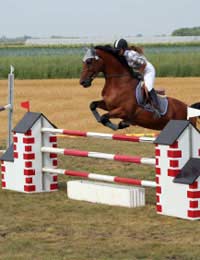 Once you have made the decision to start jumping you will need to consider how to approach and tackle your first jump. Looking at a jump – especially if it is a big one in a competition – can be extremely intimidating. It can look big and daunting to both the horse and the rider. If neither of you have jumped before, you need to take it slow and steady and build up your confidence. If the horse has jumped but you have not – go at your pace and not the horse's. He should be patient while you learn what to do.
Before You Jump
Before you tackle that all important first jump, it is advisable to give the horse a taster of what is to come, and this will also help to build up your own confidence. Start by putting a pole on the ground and walking the horse over it. The horse can therefore get some idea of what you will be asking him to do in the future. It shows him an obstacle without frightening him with an actual jump – and this in turn will help you with the confidence to jump. Once he has started walking over the pole quite happily, start trotting him over it. Again, wait until he seems happy doing that, and then move on to the next step. Lift one side of the pole up a few centimetres and get him to trot over this. Then lift the other side up so the bar is level and ask him again. The horse will, by now, have a good idea of a jump and what is coming up, but will also have seen that there is nothing to be scared of. The gradual progression will help you as a rider too, both with visualisation of the jump and general confidence.
The Jump Itself
The biggest risk when you move onto the jump itself is the horse running out, stopping or charging at the jump. When you are looking at the jump, if either you or the horse get nervous and any of the above seem like likely outcomes then do not go ahead with the jump. Move back a stage and work at that some more until you are feeling more ready to try the jump again. When you are ready to jump, you should be looking at a small jump. Let the horse sniff around it, have a walk around it and generally inspect it until he is happy with it. When you are both ready, come at it in a trot. The horse might just step over it the first time, but that is ok. Just ask him to do it again and again.
After the First Jump
Always praise the horse for getting over the jump, even if it is just a step. And when he does jump it, you may want to consider giving him a treat so he remembers for the next time.
The best way to start jumping is just to keep repeating things until the horse and you are used to them. It is better to have someone who is experienced in jumping to teach a horse to jump for the first time. But most older horses will have jumped before and will just need a little re-education from you about what they need to do – and of course, the all important building of a partnership between the two of you.
You might also like...
This really helped me with a project.
Horse Freak
- 14-Nov-11 @ 10:48 PM