The Best Racecourses Around Britain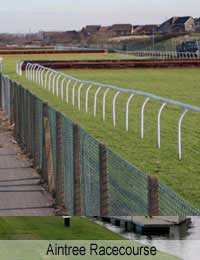 Horseracing in Britain is big business and there are more than 60 courses to choose from. If you want to go racing, some decisions are easy - you might select a course because it is near to where you live or because there is a particular race or horse that you want to see. And all of the courses have their own unique selling point, so all of them are worth a visit.
However, while the smaller courses such as Warwick and Worcester may be a pleasant way to spend a day, there are also the courses which simply cannot be missed by anyone who is keen on seeing the best racecourses around Britain.
Aintree
Even people who have absolutely no interest in racing have heard of Aintree. It is the home of the biggest single race in Britain and the one which attracts the most bets - many from people who will not place another bet all year - of course, this is the Grand National. And while there is no comparison to Aintree on that spring day when the National takes place, this is one course which has so much else to offer, that even if tickets for the national are in short supply, another day will still provide great opportunities for racing.
Firstly, it is a huge course. The National fences stretch far, far into the distance, so much so that the horses become mere specks on the horizon. But the sheer variety of stands on offer to spectators mean that the views are unparalleled. Even the concrete mound, which is covered in a sea of bodies on National day, is no bad place to watch the horses and riders take on the might of the chair.
Much of Aintree's appeal though, lies in the atmosphere. From taking a walking tour of the course before racing starts, to seeing Red Rum's grave, to the sheer exuberance of everyone out for a good time, the place is magical and exudes racing history.
Cheltenham
Where Aintree is brash and excitable, Cheltenham is magnificent. This stunning course, in the heart of the Cotswolds, is beautiful like no other. From the rolling hills behind it, to the first glimpse of the undulating course, you will fall in love. And to visit during Gold Cup week will introduce you to racing in spectacular fashion. Not for Cheltenham the tiny dresses and hats so beloved of the Liverpool racing fraternity. No, Cheltenham is all about tweed, racing chic, and of course, plenty of Irish accents. For this is a course which really does attract the real enthusiasts - which does include plenty of Irish who come over and set up shop for the week. Cheltenham is all about the racing - don't expect to see B-list celebrities, but if it is top racing you are after, then Chentenham is you course.
Ascot
No mention of British racecourses will be complete without all that is British about racing - Ascot. But beware of thinking that Ascot is a course for Royal Ascot only - nothing could be further from the truth. While the fact that the course is in the Queen's back garden does give it a royal air at all times, her majesty's presence during Royal Ascot is not the only reason for visiting the course. Like Cheltenham, it enjoys a beautiful setting, with the lond strait, which leads into Windsor Great Park, and along which the Queen does travel, to the heady views afforded by its magnificent and giant grandstand, Ascot is something very special indeed. And like Aintree and Cheltenham, it has its big meeting, but is also worth a visit at other times of the year. And even if you do not adore the racing - the men in bowler hats stationed at each entrance to greet visitors will charm you beyond belief.
Others may disagree with these choices - and with so many courses, there will never be a consensus as to which is the best. But these three are the most famous and here, we have identified just why. Anyone who wants to see the very best of British racing could do much worse than visit them.
You might also like...