Olympic Equestrianism at London 2012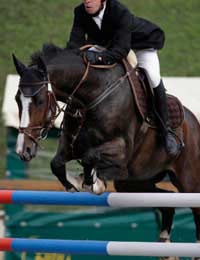 As one of the sports in which the Great Britain team has historically done well at the Olympics, equestrianism takes on a special significance at London 2012. All eyes will be on the home nation team and hoping that they can replicate successes at other Olympics and walk, or ride, away, with an impressive medal haul. In all three events, Team GB has won medals of all colours. So, like all sports, the authorities have put plenty of effort into ensuring that the London 2012 equestrian experience offers something for everyone - competitors, fans and spectators who have never watched equestrianism before.
The Venues
many of the sports at London 2012 will be taking place within sight and spitting distance of some of London's most iconic sights. And the equestrianism is no different. It will be held in east London, very close to the main Olympic park, at Greenwich Park, home to Greenwich meantime and a place familiar to millions around the world. The arena being erected there and the park itself will be able to hold 23,000 spectators, meaning that horse sports fans should have a very good chance of being able to see plenty of action. The site will be fully accessible by rail, leaving no barriers to attending.
Timings
At London 2012, the equestrian contests will take place over a large swathe of time, with eventing starting on July 28, then jumping and dressage, before dressage finishing on August 8 and jumping on August 9. The eventing section will, at London 2012, be contested over four days, rather than three. This can only be good news for those who want to watch top riders and horses in action as it gives them a whole other day to take advantage of the event. Jumping and dressage will also contest two medals, with both the individual and the team events running concurrently.
Competitors
As would be expected, there will be a lot of competitors taking part in the equestrianism events. British athletes will be hoping to do well. Both jumping and eventing will see 75 people compete for the medals while 50 competitors will do battle for the medals in the dressage event. Of course, one of the most interesting facets of equestrianism competition is the fact that it is the only Olympic sport in which men and women compete on equal terms. This results in fewer medals overall than other sports, as other sports tend to have men and women categories but a much more interesting dynamic between teams and individuals.
Tickets for all Olympic events go on sale in 2011 and everything is sure to be popular - especially those events in which Team GB is expected to do well. This, of course, is the case with equestrianism and therefore, if you are offered the chance to buy tickets through any riding associations of which you are a member, it would be a good idea to snap them up, because they are sure to be like gold dust by the time the events actually begin.
You might also like...