Riding the Grand National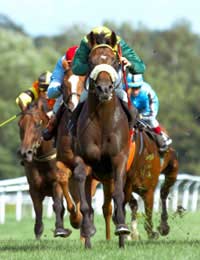 Riding the Grand National is something which most of us can only ever dream about. Just like small boys dream of scoring the winner for England's football team at Wembley, so some people would dream about that course. In fact, for most people, watching it on TV will be the closest they ever get. And for a smaller group of people, watching it live is the closest. But you do not have to be a professional jockey to have the chance to riding the Grand National - or the course on Grand National day at least. For there is one small race which makes dreams come true for a select band of people who will never be able to become jockeys but loves races and horses.
What's it all About?
The chance for ordinary, non-professional riders to race on the Grand National courses has come about thanks to a special charity ride which is now organised each year. Currently sponsored by John Smith's, the race is open to anyone who can ride a horse. After initial applications, riders are whittled down to a shortlist and from there they are taken on training weekends where they are each allocated a top trainer. These trainers then work with the riders and the horses they have selected for them to use until they have a final assessment and then ten riders are chosen. They then go through to race at Aintree on Grand National day.
Do They Attempt the Chair?
The simple answer is no - the Grand National fences are daunting for jockeys who have been riding their whole lives, let alone novice amateurs. The People's Race is, in fact, a flat race which takes place on the National course. So the jockeys are still riding the Grand National course, and, even more amazingly, they are riding in front of a huge crowd, all of whom are there to watch the Grand National.
Can You Bet on Them?
That is the other wow factor of the People's Race. Successful riders do not just get to ride, at Aintree, in front of an enormous crowd, but people can actually bet on them. All of the bookies and the Tote offer odds on them and anyone can place a bet - making it more like professional racing than ever. And the winner gets a prize too - either a trip of a lifetime to racing's World Cup in Dubai, or, more pertinently for those budding jockeys, a chance to continue training with their top trainer.
The People's Race is great fun - and that counts for the crowds who are at Aintree as well. They love to see the spectacle of people who have never ridden professionally take on that famous course. Obviously, only ten people a year get the chance to compete in the people's race, but those ten people have to come from somewhere. So, if you can ride and would love the chance to ride at Aintree - remember, you have to be in it to win it.
You might also like...