Chaps and Gaiters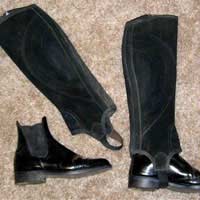 Chaps and gaiters – but chaps especially – are something which are commonly associated with the Wild West and cowboys. And although they are worn by Western style riders a lot, the garments are seen in English style riding as well. The most common style of chaps, the full length ones, are the ones usually found on cowboys at the rodeo, but there are other types as well, found in more sedate riding situations.
Chaps
The main reason chaps are worn is to keep the legs warm and dry while riding. This is obviously particularly useful in the winter and in rainy conditions. You can buy chaps in a variety of materials, including leather, suede and waxed waterproof. Clearly, some, such as suede, are less useful in wet weather. They are worn over jodhpurs to keep those dry too and they do not impede flexibility. The idea is that they can be taken on and off easily.
Full length chaps look like trousers, especially the cowboy style pairs. However, there are not too many fringed, suede pairs seen in English riders with most people tending to stick to leather or similar materials. The chaps themselves are basically two leg coverings which are attached at the waist by a belt.
Half length chaps, or half chaps as they are known, are much more common in English riding. They cover the leg below the knee. Again they are worn over jodhpurs and they can be worn with jodhpur boots. Nowadays these come in a variety of colours and materials and you can even find neoprene ones. As well as keeping the lower leg dry, they perform a useful function in stopping the jodhpurs from riding up the leg. They are held on by a strap fixed under the foot.
Gaiters
Gaiters are similar to half chaps in that they cover the bottom half of the leg, ending below the knee. But they are much closer fitting than chaps and are cut in a riding boot style. They are usually made of leather. Gaiters can be worn with jodhpur boots and breeches to bridge the gap between where one ends and the other starts. Some contests will even allow riders to wear the gaiters, breeches, jodhpur boots combination, instead of full length boots, although, as always, it is wise to check beforehand.
Both gaiters and chaps, while not being essentials for English riding, are a useful addition to your equipment cupboard, particularly if you plan to ride in all weather conditions. They make riding so much more comfortable in the rain as you will not have damp and cold jodhpurs or breeches stuck to your legs. When you get back to the stables, you can simply pull them off, remaining clean and dry underneath. And it is not only the actual riding where chaps and gaiters can come in handy. If you are wearing jodhpurs which you do not want to dirty, your chaps can be particularly useful for mucking out the stable after a ride. Like many pieces of riding equipment, if you plan on doing it well and a lot, they are going to be a worthwhile investment.
You might also like...
Good info and it helped me for an essay at school on our fave sports (homework research) Thank you!:)
Emily
- 4-Nov-11 @ 9:59 PM