Whips and Crops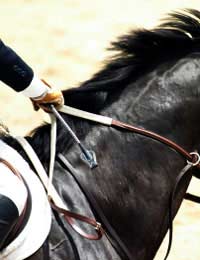 Whips and crops are used for encouraging the horse – and never ever for berating them. The whip or crop should never be used as punishment and you should never use it with excessive force. The main reason for using a whip or crop is to correct faults in the horse's posture, movement or understanding of command. The horse should never be scared of a whip or crop. When choosing a whip or crop, be wary of a wrist strap as these can hurt your wrist should you fall with them wrapped around it.
Types of Crop
A riding whip is the most commonly used one in normal riding and hacking. It is used behind the rider's leg and encourages the horse to move forward. If it is tapped lightly on the horse's shoulder, it should stop a wandering horse from doing so.
A dressage whip is longer and slimmer than a regular whip and, as the name suggests, is used in dressage competitions. Because of its length, you should be able to use it without releasing the reins and therefore compromising any control over the horse. It is able to give a greater degree of control with precise movements.
A lunge whip has a lash on the end so it can be cracked in the air to alert the horse's attention, and never to use on the horse.
Jockey whips are also self explanatory – and are used by jockeys. They are wider at the end than other whips and make a lot of noise as they come into contact with the horse – but do not hurt.
Uses of Crops and Whips
As stated above, the intention of a whip or crop should never be to hurt or punish the horse. Rather, the whip and/or crop should reinforce what the rider is asking the horse to do through the legs and reins control. Crops really should be used rarely.They are usually made of fibreglass or a similar flexible material, and coated in leather. The thinnest end of the whip hits the horse. A good and controlled use of the whip illustrates good horsemanship, while excessive use of a whip is very bad horsemanship indeed.
Crops and whips are certainly not the most important piece of kit a rider will buy. In fact, many riders will ride very happily and comfortably for many years without ever requiring a crop or whip. However, some other riders swear by having one with them at all times.
Like so many things in horse riding, it is subjective and up to the individual to decide whether it is for them or not. You may find a whip or crop useful. But you should only ever use one if you are able to do so properly. So make sure you can ride in a stable seat first and will not lose balance when you pick a crop or whip up. Also, make sure you are shown exactly where to limit the force of your use of your whip. If a horse is scared of the whip when he sees it – you have been using it too hard and must stop at once.
You might also like...