Tail Guards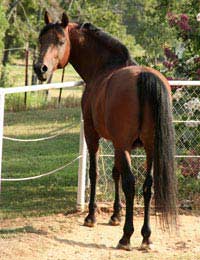 Tail guards can be made of many different materials and come in all shapes and sizes. A tail guard basically fits over the tail to protect it. The hair of the horse's tail is delicate and needs a lot of protection and needs to be kept in good condition. It gets a lot of attention in competitions – and like human hair, can become damaged if too much is done to it.
Why Use Tail Guards?
Horses rub and scratch their tails a lot. They usually do this more if they have been braided or products have been applied to them, especially when they are unused to the sensation. Braiding too tight will also make them uncomfortable and they will try to pull it out. Rubbing of the tail can cause the hairs to fall out, and you could be left with a very odd looking tail. A tail guard can be used to cover the whole tail so the horse cannot get to it to scratch and pull.
In addition, reflective tail guards are very useful for riding in the dark or in dull conditions as it provides a handy reflective strip at the back of the horse for the light of car's headlights to bounce off.
Tail guards are also used when travelling in a horse box or trailer as this is when a horse is extremely likely to scratch as they are left on their own in a confined space for long periods of time.
Finally, the tail guard, if padded, can protect the dock bone from banging against things and becoming bruised – again, particularly useful when travelling and the horse may stumble against the side of his box.
What are Tail Guards Made Of?
Nowadays, you can buy tail guards in all sorts of materials. They can be polyester, neoprene or fleece and all of the materials have their own strengths and weaknesses. The warmer materials may seem like a good idea at first as they will offer more protection against the elements. But they can cause the horse to sweat, which in turn will irritate him even more. You could make the problem worse if you do not choose the most appropriate tail guard for your horse.
Most guards are elasticated or Velcroed to make sure they fit snugly around the tail and will not fall off. And, they are usually padded to protect the dock bone. If you have one which is not padded and are planning on doing a lot of travelling, it may be worth investing in a new one to give the horse some extra protection.
Tail guards are another optional extra when investing in accessories to aid you and your horse. Opinion is generally divided as to whether tail guards are beneficial or not and much depends on the individual horse. But, as with most things, the best way to make your mind up is to try it out. Be prepared that the horse may not like it, and try out a range of different materials to see which one suits your horse – and then decide whether you like tail guards or not.
You might also like...