How and When to Use Clippers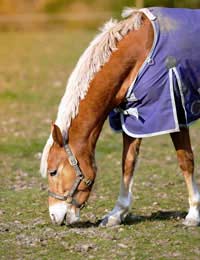 Clippers should always be used to clip the horse's coat. But before you invest in any clippers you need to establish whether your horse needs clipping. If he does, you must learn how to do it properly and when to do it. And, if you decide to clip, a good pair of clippers is vital for the task – both for your sake and the horse's.
Why Should I Clip?
Horses have summer and winter coats. The winter coat can be very thick – perfect for keeping warm in cold and windy conditions but less perfect if he is being worked hard, ridden lots and kept in a stable. If the horse is doing a lot, the thick winter coat will quickly become uncomfortable. Clipping allows the horse to be exercised and ridden without being hot and sweaty. In addition, when the horse does sweat, he will dry quicker than if he has not been clipped, and, in cold weather, he can quickly start to shiver if this is not the case.
To keep a horse in good condition, it is important to avoid excess sweating, so if your horse is prone to sweating, he should probably be clipped.
Clipping also makes grooming easier, as there is less hair for dirt and dust to get trapped in.If you decide clipping is not necessary for your horse, then trim the hair on their mane and tail with scissors to keep it neat and tidy and the horse looking smart.
Timing
The timing of your clipping programme is important and clippers should be fetched out in September time usually. You can clip horses year-round, especially if they are competing but most horses do not need this. Older horses do not always loose their winter coat properly so should be clipped year round to keep them comfortable in the summer.
The horse will start to grow his summer coat in mid January so the last clip should be done then. If you are not clipping year-round, you will not want to clip his summer coat.
Which Clippers to Use?
Cordless clippers make life so much easier as you have complete freedom of movement. You can also buy clippers with varying speeds which allow clipping of the coat at different lengths, including the shorter hair on the bonier areas such as legs and head. Look for quiet clippers as this will be more comfortable for the horse. He is likely to be startled at first, so the quieter the better, as it is less scary.
Some clippers come with different blade attachments for precise trimming – necessary for obtaining the smartest and closest finish. But always look for blades which do not heat up as they are used – again, much more comfortable for the horse.
Clipping is not always a nice experience for the horse so you should try to make it as good for him as possible. Do this by showing him the clippers before you start and then running them over his body turned off to get him used to them. You could even give him a treat while doing this as he will associate nice things with clippers.
Once it has been done the first time, he will get used to it and it will get easier, but always remember to blanket him straight after so he does not get cold.
You might also like...