Rugs and Blankets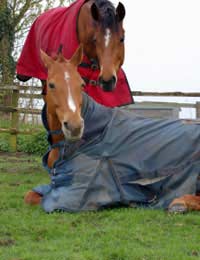 Most horses need at least one rug or blanket and most will need several. Rugs and blankets serve different purposes and you will find there are lots of different ones to buy, of all shapes, sizes, colours and materials. A rug or blanket is another way of showing your horse you care and if he has been clipped, he will certainly thank you for it.
Turnout Rugs
Turnout rugs are used when the horse is turned out in the field, as the name suggests. They keep the horse warm and dry, and also clean – making grooming easier. Turnout rugs are usually made form a synthetic material but can be padded for warmth.A New Zealand rug is a variation on a turnout rug and is made from more traditional materials. It is usually made of canvas or waxed cotton and is heavy and bulky unlike a synthetic rug. Because of its bulk it can rub the horse is prominent places, so some New Zealand rugs have lined areas and a shoulder liner can be worn too, to try and alleviate this problem.
The disadvantage of a lighter, synthetic turnout rug is that they tear more easily, especially if the horse catches them on a fence or bush, as is fairly common.
The turnout rug should be long enough to cover the horse's belly if it is to be effective. Some rugs also have neck attachments to keep the neck warm and dry. The most important thing though, is that the rug is not too tight and the horse can still move freely.
Stable Rugs
The stable rug helps to keep the horse warm at night when he is stabled. These too are usually synthetic, but should be breathable and allow the horse's sweat to evaporate. They can usually be bought in a variety of different weights to suit individual horses. The length of hair, current temperature and whether or not the horse has been clipped will all affect what weight of rug to buy.
Stable rugs are often coupled with an under blanket for extra warmth. If you want, you can swap the stable rug for a day rug during the day so the horse is protected but does not get too warm.
Summer Sheets
A common misconception is that horses only need rugs and blankets during the winter to keep them warm. But many horses will appreciate a lighter covering, often called a summer sheet, in the hotter months. The summer sheet prevents dust from getting trapped on the horse's coat and also discourages flies from bothering the horse and causing health problems. There are special fly sheets which can be bought exclusively for this purpose if flies are a particular problem. A summer sheet is often used as a travelling rug for the same reason – to keep dust and flies off the horse.
Under Blankets
Under blankets' purpose is twofold. Firstly, they stop a heavier rug, such as a New Zealand rug from rubbing the horse. However, with thick rugs, you may want to use a simple liner for this purpose to avoid the horse becoming too hot. The other reason an under blanket is used is to give extra warmth. They can be worn with all types of rugs and are specifically designed to go under other types of covering.
The horse will appreciate a good quality and suitable rug or blanket. They certainly make the owner's life easier as they will help make grooming much easier thanks to their ability to keep dirt off the horse. Not only that, but a horse can be uncomfortable if cold, and, if flies are allowed to sit on a horse's body, problems with the parasites could develop. For these reasons alone it is well worth investing in a selection of rugs and blankets.
You might also like...