Footwear for Riding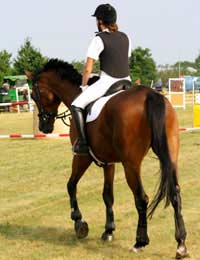 The importance of having the right footwear for riding cannot be underestimated. The rider does much of the controlling of the horse with their feet and, as such, must be comfortable and in control. The hold the rider has on the stirrups is also an important factor to consider in riding footwear and the last thing a rider wants is to fall off because of incorrect attire. Riding can also be a messy business, especially in the winter, and good footwear will help to keep you safe and clean.
Beginners
Beginners will not need to invest in proper riding boots immediately, until they know whether they are going to enjoy riding and take it up properly. But what you do need is to make sure you are going to be safe from the outset, even if you never get back on a horse again. In fact, if you fall during your first lesson because of the wrong shoes then it will probably put you off riding for life anyway.
Beginners should not wear trainers or hiking boots if it can be avoided. These shoes do not have a heel, which is needed to hold onto stirrups. In addition, the grip or tread on whatever shoes you do wear must not be too deep as if it is, it can catch on the stirrups and pull your foot in the wrong direction. Equally, a shoe with a slippery sole is no good, for obvious reasons, as the foot may simply slide all the way through the stirrup, trapping the leg.
Safety
Proper riding boots are the safest footwear to use, and once you have decided you are going to continue riding, you should purchase a pair. Safety is important in a number of respects. Firstly, and this can be overlooked, is that horses are heavy. They do not always look at where they are putting their hooves and if they tread on your foot, it will hurt. Therefore, look for boots with a reinforced toecap to protect your foot from pain, and even broken bones, if a horse does decide his four feet are not enough.
Ankles are a vulnerable part of the body, particularly when riding, when the foot can be twisted easily. Therefore, it is best to look for boots which completely cover the ankle to give it that added protection.
As stated above, the sole needs to be smooth without being slippy. This will ensure the foot does not get stuck in the stirrup nor slide off altogether.
Styles
There is a variety of styles of riding boots, and all should serve the same purpose, so many of the differences are simply aesthetic.
Boots are usually made from leather or PVC.
Jodhpur boots are, as the name suggests, designed to be worn with jodhpurs. They are ankle length boots which end just above the ankle and are usually elasticated to aid with pulling on and off.
Knee length boots can be worn with either breeches, which end at the mid calf or jodhpurs. With riding shoes, you will need to wear chaps as well, but these are commonly seen in Western style riding rather than English. Heels are usually made of leather or rubber.
If you are serious about horses, it is best to invest in a pair of boots for stable management and they should be sturdy and waterproof.
Boots are an important piece of kit for the recreational rider. Comfort and warmth are two more qualities to look for in a boot, and remember; you will be wearing them for long periods of time and to do physical activity in. Therefore, it is a good idea to wear them in before riding in them or the first time. Don't compromise on fit, if they feel too tight or too loose, go somewhere else for your boots.
You might also like...