Breeches or Jodhpurs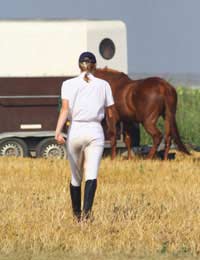 Breeches and jodhpurs are two of the most distinctive items of riding clothing. If you see someone wearing a pair you can be fairly sure they are a rider. The trousers serve to enhance the riding experience by making the rider feel more comfortable and also safer. A good pair of jodhpurs or breeches will give the rider room to move whilst being tight fitting enough to allow them to feel the horse and know what he is about to do.
History
Jodhpurs were originally named after an Indian city. In Jodhpur, Rajasthan in the north of India, the royals would play polo. Whilst playing, they wore a type of distinctive looking trouser. These were tight around the legs and baggier around the hips. It was not long before British people began to play polo and they also adopted the trousers as their garment of choice, thus christening them jodhpurs. Over time, the trousers became adapted to make them more suitable for all types of riding. The baggy hips were tightened and other modifications added. The basic principles, however, stayed the same, to allow the rider to ride their horse in comfort and safety.
Jodhpurs
Jodhpurs are, as mentioned above, tight fitting trousers. They are usually made out of a flexible material which allows the skin to breathe – common modern pairs often include Lycra or Spandex. The trousers allow the leg to bend when the rider is seated on the horse, but without cutting into the back of the knee as many trousers would do. They are usually, or rather traditionally, white or cream, despite this seeming like an impractical shade for riding horses through muddy fields. They can now, however, be seen in a variety of different colours and patterns, although sombre colours still predominate.Strictly speaking, jodhpurs end at the ankle. They may have an elastic strap, commonly called a stirrup, to fit below the foot to stop them from riding up. Jodhpurs are usually worn with ankle length riding boots which are also known as Jodhpur boots, but can also be worn with long riding boots.
Modifications which have been added to the manufacturing process of jodhpurs over the years include several patches to keep a rider safe. There is usually a patch of a grippy material on the seat to keep the rider in place – it is important that this is also hard wearing. There can also be similar patches on the inside of the knee to allow the rider to grip the horse more securely. In addition, the leg seams are on the outside of the leg to avoid rubbing the horse or rider.
Breeches
The term breeches is often used interchangeably with jodhpurs, but strictly speaking they are not the same. Breeches are similar to jodhpurs but end halfway down the rider's calf. This means they can only be worn with long riding boots and not with Jodhpur boots. There are also types of breeches with a knee patch, similar to those found on jodhpurs, or a fullseat patch. Show jumpers tend to wear the former, to allow them to grip harder when taking jumps, while dressage riders prefer the latter, allowing them to remain in position when riding and showing the horse.
Anyone who is even vaguely serious about riding will need a couple of pairs of jodhpurs or breeches. Certainly when a rider progresses to entering competitions, the jodhpurs will be obligatory. Most competitions employ a fairly well adhered to dress code for horses and riders, and thus, it is not advisable to wear garish colours. For competitions, riders should aim for more conservative colours. As well as the cream and white shades, muted greens are also popular. Less conservative colours can be used for cross country riding, and most riders tend to match their jodhpurs or breeches to the colours of their team. To be on the safe side it is always best to check before competing.
Most riders will have a vast array of jodhpurs though, with older pairs earmarked for winter hacks and mucking out and newer pairs saved for competing.
You might also like...