Riding Schools for Children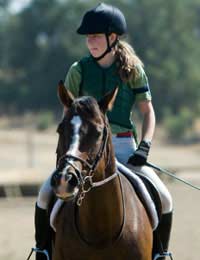 Children and animals can be and often are, an unpredictable combination. A parent who is looking for a riding school for their child needs to find somewhere that bears this simple fact in mind. It is best, therefore, to choose somewhere which is established and has a good track record at teaching youngsters, rather than use the first school you find or the nearest to home.
What to Look For
Get a list of things you want prepared for your first visit to a riding school. Check the school is British Horse Society or Association of British Riding Schools approved. This will ensure a high level of safety and proper and correct instruction for your child.
When you go to visit the school – which you should always do before you book any lessons – look for enthusiastic children and teachers. The teachers should also be keen and paying each individual child the same amount of attention – if they are ignoring any children or focussing on one child, then they are probably not well schooled in teaching riding to youngsters who are apt to get bored easily.
Also, look around the yard and make sure it is tidy and things have not been left lying around. Check to see if the children are being taught to keep it this way – this is a safety issue as well as teaching them how to do everything connected to horses.
Safety
Safety is of paramount importance, and never more so than when children are concerned. The school should have plenty of differently sized riding hats for your child to borrow, and therefore, there should be one which fits them. If the school does not insist on hat wearing then turn away – they obviously do not take the children's safety seriously if they will not even enforce this rule.
Check to see if there is a first aider on site at all times. You want to know that if your child has a fall – and sooner or later they will do – there will be someone there to treat them if it is a minor injury or look after them until help arrives if it is more serious.The instructors should all be fully qualified. They may be young themselves as often children's classes are given to young instructors so watch them carefully when they are teaching. Make sure they can handle all aspects of the lesson, including any rowdy members of the group who may be likely to cause trouble.
Horses
Ponies are best for children, certainly in terms of size. The school should have a range of horses which are specifically kept for children to learn on. Horses which are used to teach people to ride are known as schoolmasters. The schoolmasters used for children should be placid and calm – usually older horses – and not likely to bolt if a child does something to annoy them.See if the school will let your child join the Pony Club using one of the schoolmasters. There the children will learn how to take care of the horse as well, including how to muck out, groom and other general stable management skills.
Riding is a great pastime for children. But it is very important to get the school right. A bad experience could put them off for life. If the school offers regular tests, this will give the child something to aim for, and bring them on leaps and bounds in many different ways.
You might also like...
I read the above and it is interesting i really love horses and ponies and really want to learn how to ride.