Become a Horse Riding Tutor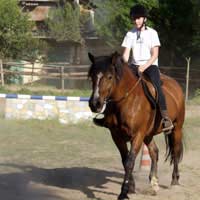 People don't tend to merely just like horses and horse riding - they have a tendency to possess an unwavering passion for both the sport and the animals themselves. Horse riding is not only a fantastic way to explore the countryside and coastlines, but also a great way to enjoy making the most of being around these majestic creatures.
If you have a serious enthusiasm for horses, then you may have considered a career as a horse-riding tutor. What better way is there to indulge a passion and leisure pursuit than to make it into a full-time job?
Job Requirements
So what exactly do Horse Riding tutors do on a daily basis? Work as a horse riding tutor is frequently undertaken in addition to working as a groom. Obviously, the most fundamental part of the job is instructing people to ride horses, and as a tutor you will come into contact with people of varying age, riding skill and experience. Some riders may want to learn purely as a leisure activity and hobby, whilst others may wish to develop their skills to competition level. Either way, instruction often involves working with both individuals and small groups of riders, and although much of your work would be through observation, you will also be required to carry out practical demonstrations.
Working as a horse riding tutor may also require a degree of administrative and written work, such as undertaking training development programmes. As a tutor you will also have to ensure that all safety requirements around the premises and during lessons are adhered to. You should also bear in mind that many riding instructors are required to work evenings and weekends. Unless your riding school has an indoor training centre, you should be prepared to have to work in all kinds of weather conditions.
Skills and Qualification Requirements
Good riding schools will usually only employ horse riding tutors that have obtained qualifications from either the Association of British Riding Schools (ABRS) or the British Horse Society (BHS). Would-be instructors may train on an apprenticeship basis, through distance or private learning if applicable, or through attending relevant college courses.
If you are thinking about training as a tutor, then your horse riding should obviously be up to par. However, in addition to this, you should be an excellent verbal communicator, bearing in mind that you should be able to communicate with both young children and adults effectively. Working with students of differing abilities will definitely require you to be patient, calm and understanding. Ideally your passion for horse riding should be apparent and infectious.
How Can I Train? What Will I Need To Do?
There are a number of ways to train and qualify as a horse riding tutor. But first, you should take into account that as an instructor, your work will usually require that you have completed first aid training. If you intend to work with children, or young or vulnerable people, then it is also standard procedure to obtain clearance from the Criminal Records Bureau (CRB).
As aforementioned, actual training towards horse riding instruction can be undertaken from the two recognised bodies - the BHS and ABRS. To undertake BHS training and exams, you will need to become a member of the society. However, to train and obtain qualifications from the ABRS, you do not need to be a member.
BHS Qualifications
BHS qualifications vary, and your candidacy can depend on your skill and age. Once you have become a member of the BHS, you can gain the following instructor's qualifications:
BHS Stage 3 inc. Preliminary Teaching Test
17½ years and over only
Assistant Instructor's Certificate (BHSAI)
To undertake the training towards this qualification, candidates must be 18 years or over. However, those aged 17½ must have a minimum of 4 GCSEs including English at the time of the examination.
BHS Intermediate Instructor's Certificate(BHSII)
Candidates must be 20 years or over.
BHS Instructor's Certificate (BHSI)
Candidates should be 22 years or over.
Fellowship of the British Horse Society (FBHS)
This is only open to those aged 25 and over.
ABRS Qualifications
The examinations as set by the Association of British Riding Schools are practical. The basic and advanced qualifications for riding instructors that are on offer consist of the following:
ABRS Initial Teaching Award
For those aged 18 years and over
ABRS Teaching Certificate
The ABRS stipulates that candidates must be 19 years and over to train for this certificate
The Advanced Teaching Diploma Certificate
For those already qualified as instructors
ABRS Principals Diploma
For candidates who have been school proprietors or principles for a total of more than 5 years
It's also worth noting that the British Equestrian Federation (BEF) will be offering a new recognised and professional qualification known as the UK Coaching Certificate (UKCC) for Sport and Leisure.
Whichever path you are thinking of taking towards qualifying as a riding school instructor, some of the most important requirements are that both your passion for riding and working with people remain as your driving force to succeed.
You might also like...