Affiliations and Accreditations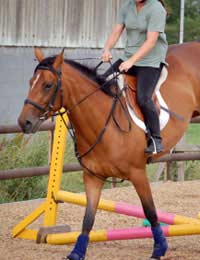 When you are looking for a riding club to join or a school to learn at, it is always good to find one which is affiliated to a particular professional body or one which has plenty of accreditations. This means that although the individual institutions are independent they are linked to official bodies which should mean they have to adhere to safety standards and have a better quality of instruction.
British Horse Society
The British Horse Society, or BHS as it is commonly referred to, has a group called British Riding Clubs, or BRC, aligned to it. BRC is affiliated to the society and comprises more than 430 clubs and 38,000 individual members.
The advantages of joining a BRC club or riding school are numerous. BRC holds competitions which members can enter and offers a standardised training route with standard exams across the board. In addition, riders who are BRC members have third party insurance at all BRC events. If there is not an affiliated BRC member club near to you then you can take advantage of this by becoming an individual member and be eligible to take BRC exams and enter contests.
The BHS Approvals scheme helps riders to choose a school to learn to ride. They are all inspected at least once a year and have stringent standards for instruction, horse care and safety.
Association of British Riding Schools
The association only exists to represent riding schools. It helps to guide youngsters who are looking for a career in horses and point them in the right direction.
It also has approved schemes. Its member clubs should all offer well-presented and correct instruction. They should all offer suitable horses and safe saddling. And, like the BHS, the association offers a standard exam system so riders can compare and contrast with their contemporaries.
Pony Club
The famous Pony Club does not have affiliated riding schools but does have 360 branches across the UK. These branches all organise all manner of events including rallies where youngsters can try their hand at different equestrian sports. The club also offers many fixtures throughout the year and parents can rest assured that their children are learning to ride properly and safely. The training structure allows members to progress in both riding and horse care and their exams – to be taken at certain ages – allow children again to compare themselves with their peers.
There are other bodies apart from these three. All forms of riding, including dressage, showjumping, cross country and polo, have their own overseeing body, such as The British Showjumping Association and British Dressage. Always inspect the accreditations of a school or club to make sure they are legitimate and offer you some sort of assurance that the place you are considering is safe and offers good instruction. Make sure the legalities of insurance and liability are covered and that you will be able to take exams which will be recognised outside of the club as well. Finally, check the instructor's teaching accreditations and when you are satisfied, you are ready to ride.
You might also like...