Questionnaire: Which Equestrian Sport Will Suit Me Best?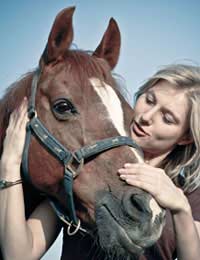 Once you have been riding a horse for a while, you may decide you want to start to compete properly, against other people with similar experience. But you may not know which sport to try. There are, of course, many different sports which encompass horses - and one thing to never forget is that the horse is part of your team. This short quiz should help you to decide which equestrian sport is best for you.
1. You head to the stables to muck out but your horse seems unlike himself. What's the problem?
a) You diagnose it immediately because you know your horse that well.
b) You're not sure but you're worried as a contest is coming up.
c) You've seen it before in another horse so you think you know the issue.
d) You call the vet straightaway.
2. You are grooming your horse. What style do you go for?
a) A beautiful, never-been-seen before style.
b) Something functional which will not get in his way.
c) Something sleek - and fast
d) You're not sure - you might try a few different styles.
3. You have a busy time coming up at work/school - how do you fit in your horse time?
a) You prioritise the horse - that's the most important thing
b) Stay up all night to make sure you do it all
c) Rush the work and get to the stables
d) Ask someone to help out.
4. What do your family and friends think of your horse obsession?
a) That it's just a phase you'll finish soon - little do they know
b) That it really is an obsession - you don't think of anything else
c) That you'll be a champion jockey one day - obviously!
d) That it's another of your many talents.
Mostly A's
You have a great rapport with your horse which you should show off for all to see. In addition, you clearly are an artistic type who will suit something which allows you to show off your creative flair. Dressage is best for you and your horse as it will allow you to build an even stronger bond and develop the rapport, so that you are completely in tune with each other.
Mostly B's
You are competitive and need to try a sport where there is a clear winner. Why not give showjumping a try. It should appeal to your competitive nature and the defined marking scheme means there is always an obvious winner. It is also easy to see where you have gone wrong and what you should be working on. Showjumping needs you and your horse to aim for perfection on every single round but also to learn where you have gone wrong and correct it to improve for next time.
Mostly C's
Your body type makes you ideal for racing - it is a type of sport in which participation is determined by just this. Jockeys need to be small and wiry - but this is not the only attribute they need. A rapport between a jockey and horse is less important than in other equestrian sports because the jockey will ride lots of different horses. However, what is important is the ability to read a horse and to know when it needs encouragement, reproach or just a few words of advice.
Mostly D's
If you enjoy all aspects of riding and do not think you would want to single out one of them, then surely, the best sport for you to try is eventing. Formerly called three-day eventing in the Olympics, it is now held over four days. It encompasses all aspects of equestrianism and is therefore the ideal choice for someone who wants to become a true horseman or woman, in all aspects of the word.
Whichever sport you choose, the main thing to remember is that to excel, discipline is needed. Time and effort must be put in to succeed and achieve.
You might also like...
i have a horse hes black with a white diamond shape on his head. Hes 15.2. His name is dylan. and on the questionnaire im mostly d.
court
- 7-Nov-14 @ 10:22 AM