What Equipment Will You Need?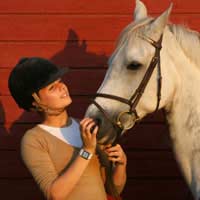 Starting to ride is daunting enough before you start to consider what equipment you will need. But your riding school and instructor will help you to decide what the most necessary pieces of equipment are and what you can borrow. Obviously the horse is the one thing that you cannot do without but there is a whole raft of equipment for both rider and horse to go with it. And while tack for a horse is probably the most expensive set of equipment, the things the rider needs for themselves are plentiful as well.
Clothing
To start riding, you will need comfortable trousers and sturdy boots – preferably not jeans and trainers. For the first few lessons you need nothing more – apart from a hat. It does not matter if you are only trying riding out and do not know whether you will continue with it – you must have a hat. A riding hat can be, quite literally, a lifesaver. You riding school will probably be able to lend you a hat but you can never be sure what has happened to it in the past, so it is better to buy your own.
Once you know that you enjoy riding and are confident that you will continue to do it, you should invest in some other important items of clothing. Jodhpurs are a good purchase. They are tight fitting but flexible trousers and are important for both comfort and safety while on the horse. Next are riding boots, either ankle length Jodhpur boots or knee length boots. The boots should have a small heel for gripping the stirrups. A good pair of boots will also be useful when you start to muck out your horse's stall. Comfortable fitting boots are vital as so much controlling of the horse is done with the feet.
Riding gloves are also a good purchase and relatively speaking, inexpensive. They will keep you warm in the winter, but, having a grippy material on the palm and fingers, will ensure you keep a good grip on the reins.
Grooming
Riding is just one part of equestrianism.
Grooming
is another major part, and, as such, you will need a set of good quality grooming brushes and a storage box to keep them in. This can include curry combs, dandy and body brushes and a hoof pick although this list is by no means exhaustive.
Crops
Crops and whips are not a big concern at first. But as you become more serious about riding, the need for them will become greater. The main role of the crop is to back up the voice and leg commands of the rider – never to hurt the horse. The crop is used on the fleshy rump where the horse will feel it but where it will not hurt him. There are many different lengths of crop and all exist for different reasons. They are usually leather and have a flexible end. Whips also have a crack on the end. The main function is to guide the horse and to show direction and pace.
The list of equipment a rider needs looks like a lot. And although it may be more than in other sports, riding is more than a sport – it's a lifestyle. If you ask around you should be able to find bargains here and there if people are selling equipment they no longer need. But do not be tempted to buy cheap, poor quality equipment. The better equipment you buy, the longer it will last, and, moreover, the safer it will be.
You might also like...
i have just starting riding only had one lesson already got the boots jodphurshat polo and whip im really serious about this
kelseklwel
- 7-Oct-16 @ 4:12 PM
I found this very good because my daughter is at cantering stage and we were thinking about getting her a horse although did not want to get it and realise that we did not have half the eqiptment
Loulou
- 1-Apr-16 @ 7:52 PM
I am horse lover & ride English as it is the most comfortable style for me
Gauri
- 31-Mar-16 @ 11:22 PM
I never had to use a helmet, crop, or proper clothing while training my horses. When I first got my Arabian cross she was crazy, so was my Quarter horse mare. I trained them both without anything to protect me, and I never once got hurt. Proper clothing isn't necessary. You need the strength, consistency, and you have to understand your horse. Comfortable things are great, but your jeans are just fine for training. My mares are over sixteen hands, and 1,500 pounds. They were mad, sad, alone, and very dangerous. I have also never hit my horse in the butt with a whip. They weren't easy to train, but I did it because I knew what they felt.
Dessy
- 15-Jan-16 @ 3:04 PM