Mucking Out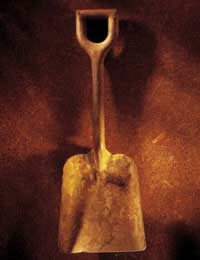 There must be very few people who genuinely enjoy mucking out. Unfortunately it has to be done and is a necessary evil of horse ownership. If a stable is not mucked out well every day, it poses a risk to the horse and to you and anyone else who goes inside it. Although it isn't a pleasant task, once you develop a routine you will get it done more quickly and it will start to feel like less of a chore.
What You Need
There are a few essential tools which make mucking out a lot easier to do and to bear. First and foremost is a wheelbarrow. You will need this to move both dirty and clean bedding in and out of the stable and without it, mucking out will take a very long time. A pitchfork is also a useful addition to your selection of tools. As well as moving clean bedding, more importantly, a pitchfork will allow you aerate the straw or shavings when they are in the stable. Brooms and shovels are always needed for sweeping up the bedding on the floor and moving manure into the wheelbarrow. And don't forget your wellies and gloves – vital if you want to stand any chance of staying clean.
What to Do
You cannot muck out while the horse is in the stable, so the first thing to do is to lead him out. It's best to do it when he is turned out anyway so he does not get grumpy at being made to move again. Then empty the stable of all of the equipment, toys and food buckets that are lying around.
Shovel out all of the wet and soiled bedding and fork the manure into the wheelbarrow. Take the wheelbarrow of manure to the designated area and tip it out. You should be careful not to overfill the wheelbarrow as if it is too full it could tip over, emptying all of the manure you have just collected onto the floor.
Scrape the old bedding to one side if it is not wet or soiled and check to make sure there is no dirty bedding underneath it. Then distribute clean bedding across the stall and add some new bedding to make up for that which has been thrown away. Air it through with the pitchfork.
The thickness of the bedding will vary but generally depends on the warmth of the stable. A cold stone floor will require more bedding than a warmer one, and similarly, if it is cold weather, you should put down more bedding.
This routine should be carried out daily although some owners just 'skip out' on alternate days and do a full muck out on the other days. Skipping out is literally just removing the manure and droppings from the bedding. It really depends how dirty the horse is – some require more cleaning than others as they urinate more.
Once a week though, you should take out all of the bedding from the stall and put down disinfectant. Wait for the stall to dry, replace with fresh bedding and allow the horse back in.
Whichever method or routine you choose to use, you must muck out; there really is no getting away from it. A horse can become ill very easily in a dirty stall and may well pick up chest infections from breathing in urine. In addition, insects are attracted especially in summer, to a dirty stable. Hoof problems like thrush often arise from a less than clean stall. But look on mucking out as another way of giving your horse his much-needed tender loving care, and, while you may not ever enjoy it, you will always remember why it has to be done.
You might also like...
How old do you have to be able to do stable hand ?
Kim
- 30-Jan-17 @ 4:59 PM
Thanks for this I needed info to revise for a pony club test, gold 1, thanks again.
loganhendersonfan
- 15-Apr-11 @ 7:54 AM