Showjumping: Where to Start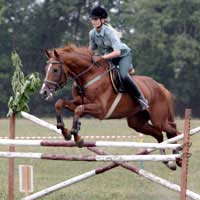 Most people who learn to ride progress to competing in some way, shape or form. A few are content with hacks after work and at weekends, but the vast majority want to test themselves against other riders to see how they fare. Showjumping is an ideal way of demonstrating your horsemanship, skills and the way you and your horse work as a team, but it is also a very demanding sport. However, with the time and effort put in, it is ultimately, very rewarding.
Information Gathering
There are plenty of competitions around the country from beginners right up to professional level. But knowing where to start can be a bit intimidating and luckily, several organisations are there to help. The Pony Club runs information days for young riders and their parents about how to get into showjumping, what it will cost, what they need and what safety measures they take. Other clubs will run similar events for adults who want to compete. These sessions are ideal as it allows rider – and their parents in the case of youngsters – to find out exactly what showjumping entails.
Starting to Compete
Again, once you have decided that showjumping is for you, the best place to go is to your club. The Pony Club holds rallies around the country where youngsters can go to meet like-minded individuals and gain confidence. These rallies usually include some element of showjumping. Riders will start by representing their club or branch at a showjumping competition. Once they have performed reasonably well, they will move onto a newcomers' or novice contest. There are strict rules about what makes a novice, both in terms of riders and their horses. But once you have competed in a novice tournament you will be in the system and will hopefully qualify for bigger and bigger competitions each time you ride.
Starting to Jump – the Rider
Moving from riding a horse on the flat to jumping can take some getting used to. The position of the rider on the horse changes to make it easier for both rider and horse to jump. Many new jumpers ride their stirrups far too long, because they are used to having them that length for flat riding. They need to be much shorter for jumping – six holes is not an uncommon amount to take them up. Once you have adjusted them to where feels comfortable, get your instructor to check they are the right length. It is also advisable to ride with the stirrups at this length on the flat for a while until you are used to them.Similarly, the reins need to be held much shorter as well. As you lean forward to jump, your hands will be much further forward than you are used to. This means that to retain the normal contact, you will need to shorten the reins and move your hands from the withers further up the neck.
The lower leg should always remain in contact with the horse when jumping.
Starting to Jump – the Jumps
Firstly, when learning to jump, remember to start small. The horse may have jumped before and be used to it, but do not let him dictate your pace. Go at your own speed until you are comfortable with it. Trot over poles to begin with and then build up to a canter. You should always canter out of the jumps and if the horse does not do this, then you will need to train him to be less lazy.
Showjumping is a fun sport and a great way to meet people who share your love of horses. Once you are a rider, you have the basic skills and it is just a matter of learning a few new tricks and building confidence. From there, it is up to you and your horse to improve on your partnership to take you to the top.
You might also like...
To compete at high levels in showjumping is it easier to have your own horse, share or loan? Thanks
Grace
- 13-Dec-16 @ 7:30 PM