What to Expect from a Riding School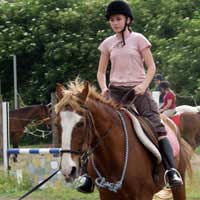 It is daunting to head off for a riding school when you do not know what to expect. Of course they are all different and cater to a wide range of abilities and specialisms. But there are a few things which can be relied on. You can rest assured that riding schools will be used to anxiety and no-one will laugh at you if you are nervous.
Basics
Assuming you have never so much as sat on a horse before one thing you can rest assured of, is that all horse riding schools will teach you the basics. There is no need to worry about making a fool of yourself as you mount the horse, or wondering how on earth you get down from it. The school will start with the first steps and show you how to mount and dismount. After this – and not until you feel comfortable to move on – they will show you the basic rider position and posture you should have on the horse. Only after you have mastered this will you start to move. The school will teach you how to make your horse walk forward and how to turn him left and right. They will also show you how to make him reverse, and, importantly, how to let him know he must stop.
No school is going to make you move onto the next step before you have mastered the previous one – it is not in their interest to have injured or terrified riders in their classes.
Getting Used to Your Horse
You will have plenty of time to get used to your horse – the riding school will not make you canter on your first lesson. You may not even get as far as trotting, depending how long your lessons are. Any riding school worth its salt will spend a considerable amount of time making sure you and the horse are used to one another. This will include exercises to improve your balance on the horse. You may be taught how to turn around in the saddle and to do scissor movements with your legs. These exercises may seem intimidating or even pointless but they all help with balance and posture, and, as such, make you a better rider.The instructor may feel that you are capable of learning how to trot. A trot is faster than a walk, but nowhere near as fast as a canter, so there is nothing to worry about. What's more; most riding schools will give you your first lesson in an enclosed area with a suitably docile horse, so there will be no danger of the horse bolting or running off with you still on him.
Horse and Equipment
As if it's not enough to think about actually learning to ride, there is an awful lot of equipment that goes with it – not least of all the horse itself. But you can expect that most riding schools will be able to lend you anything from the horse down to the hat, and most things in between. The school will have a wide range of horses to suit all temperaments. They should make sure they match your temperament to that of the horse – who all have distinct personalities. If you are not happy with your horse, air your concerns as soon as possible.
The riding school will also be prepared with all of the tack you will need, certainly as a beginner. It is also likely that you will not be expected to put it on the horse at first. However, you should be prepared that many places will expect you to learn how to do this quickly, as an important part of riding is looking after your horse. Similarly, after a few lessons, do not be surprised to be asked to groom the horse you are riding or to muck out and help with other areas of stable management.
The school should also have a range of hats to fit all head sizes. However, you must remember that they will be used and therefore should consider buying your own new one, as you will know it is safe. Having said this, a reputable riding school will have all of its hats safety approved and will also thrown out any which are worn or have been involved in an accident-even if there is no visible damage.
If you are not sure what to expect from a riding school, just remember you are learning to ride as a pleasurable pastime. Schools and instructors are well versed in putting people at ease and you will also be given time to bond with your horse. Most people who start riding take to it like a duck to water and begin a love affair with horses. Riding schools are not scary places, and the most important thing is that you feel safe and happy there. Everything else will follow in time.
You might also like...
I love horse riding now and I am planning to buy my own horse it's so exciting
Livey
- 3-Apr-13 @ 11:16 AM