How to Find a Riding School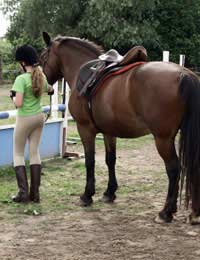 When you start to look for a riding school it can be like looking for a needle in a haystack. There are thousands of schools across the UK and knowing which one to choose is not always easy. Of course one option would be to choose the closest school for ease and hope for the best. But how do you know it is right for you? They may push their riders to enter competitions when all you want to do is ride in your free time or they may not focus on stable management when you want to learn how to muck out and groom; the complete horse package. So, in order to make sure you are not disappointed, it is best to use a range of criteria when selecting your school.
British Horse Society
The British Horse Society (BHS) accredits over 900 schools in the UK. If a school is BHS accredited you can be sure it is checked at least once a year, for the quality of its instruction, safety procedures and care of the horses, amongst other criteria. The BHS also publishes a helpful book of where to ride and where to train, which lists different criteria which riders look for in a school.
Recommendations
Recommendations are also always a good way of finding a place to learn. Few people would recommend a place where they have had a bad experience, unless they have a vested interest in the place. If you are looking at buying a horse or have one and have it liveried at a stable, ask the stable owner. They will see many horses and riders pass through their stables, and, as such, will build up a good idea of schools in the locality which offer good facilities, and those to avoid.
If you have friends who ride, you could do a lot worse than ask where they learnt. They will be able to give you an exact idea of what it is like to learn at their school. If it doesn't sound like the type of school you were looking for, they will probably have friends who learnt elsewhere – people in horse riding circles make friends easily at competitions and the like – who will also be able to give you hints on local schools.
Yellow Pages and Google
Looking through the Yellow Pages or searching Google for a school is not a bad method if other avenues have been exhausted. A lot of bigger schools will take out adverts explaining what they offer, and some will have websites which they direct you to. Obviously, there is no way of getting an impartial view with this method, so once you have found somewhere which seems to appeal, go along and pay them a visit. Take a knowledgeable friend with you if possible. You should never book a lesson at any school without visiting first, but it is especially important if you have just pulled the name from Yellow Pages or the internet.
Watch a lesson in action and speak to people afterwards to see what their impressions are of the school and what they have learnt. Have a look at the horses and see if they seem to be well cared for and the safety equipment is all in working order. Does the instructor seem to pay her students attention? Are there too many people in one class for her to pay attention to? Does she know their names? This last is not strictly necessary, but it is small touches like these which show a dedicated teacher. If you are happy with what you see, check any qualifications and accreditation, including a valid first aider on site, and then book your lesson.
There are so many riding schools; it is not too difficult to find one to suit you and your needs. Safety and care of the horses are two of the most important things to look for when you visit. The vast majority of schools are very responsible and will teach you well. There is always the odd one which may not be right for you – that is why you should always check it out first before committing.
You might also like...
Looking for cheap riding lessons for adult,in west midlands near B68
Dawn
- 28-Jun-14 @ 1:09 PM
Looking for caheap pony lessons for my 6year old daughter around caboolture area Queensland please call on 0438482466
ronny
- 18-Aug-12 @ 12:32 PM