Horse Riding Safety When Having Lessons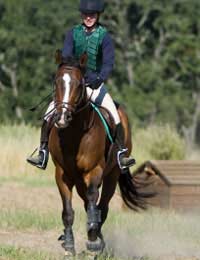 Horse riding can be a fun and exhilarating activity, but you must take precautions. Horses are beautiful, but large and sometimes dangerous animals. Horses can weigh up to 1,500 pounds; they can gallop as fast as 30 miles per hour, and can stand up to three meters tall. You should take every effort possible to ensure your health and safety when riding. Follows these tips for horse riding safety and your chances of being injured should be greatly reduced:
Take Riding Lessons
Many inexperienced riders get hurt because they do not know what they are doing. Taking riding lessons can be a bit expensive, but they can help prepare you for any type of emergency. Horse riding lessons will also help you correct bad riding habits that could also be potentially hazardous.
Wear a Helmet
It sounds like a simple thing, but wearing a helmet while riding a horse can save your life. Be sure you purchase a helmet specifically for horse riding. Look for an ASTM/SEI certified helmet that fits properly. Unlike bike helmets, horse riding helmets are designed to brace for an impact to the back of your head, where the majority of head injuries occur.
Stirrup Safety
The correct use of stirrups is also very important in horse riding safety. Make sure your boot has a good enough heel to keep your foot from slipping through the stirrup. A good riding boot should have minimal tread and a heel of at least 1 inch. If your foot does get through the stirrup and you cannot get it free, you risk the possibility of being dragged by the horse. There are peacock stirrups, sometimes known as breakaway stirrups, which will break away in case of a mishap. Toe stoppers can also be attached to your stirrup to prevent your foot from slipping through.
General Safety Rules
There are some general safety rules you should always follow when riding a horse. One of the most important safety tips is to never ride a horse out of your skill level. All horses are different, so if you are a new rider, be sure to tell the stable hand or riding instructor, so he or she can provide you with a horse that is suitable to your skill level. You never want to get on a horse that you cannot control - that is just a recipe for disaster.
When you are riding, it can feel so peaceful and relaxing that you may become a bit disconnected with your environment. Always stay alert to what is going on around you at all times. You do not need to be nervously aware, but just be alert to your riding surface, other riders around you, other horses around you, how your horse is responding, etc.
If at all possible, never ride alone. It is better to ride with an experienced rider, especially if you yourself are inexperienced. When riding with others, keep at least one horse length between you and the horse in front of you. When in a group of riders, elect a trail boss - that is, someone who knows the trail well - and never pass him or her. Never leave the trail because there may be holes, unsafe surfaces, or other hazards that you do not know about.
It is okay to talk to other riders with your, but don't talk on your cell phone while riding. Be sure to check the girths every now and again. Horses often expand their chests when you saddle them, so do not completely tighten it at first. Walk the horse out of the bar, and then tighten the girth. Once you have ridden a few minutes, check the girth again to make sure it is still tight. It should be tight enough to keep the saddle from slipping, but not so tight that it constricts the horses breathing.
By educating yourself to some basic horse riding safety rules, you can enjoy the ride while at the same time protecting your health by reducing the chances of being injured.
You might also like...