Improving your Fitness for Horse Riding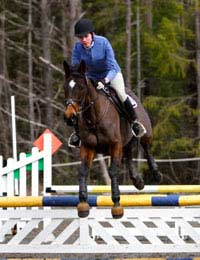 Improving your fitness for horse riding should be a priority when you take up the sport and you should aim to maintain your fitness level while competing and riding. Horse riding is a physically demanding sport, and, as such, one which requires participants to have a good level of fitness. If you have a reasonable level of fitness already then this is half the battle, but you should be aware that when you take up horse riding you will be using muscles you are not used to using and therefore you should try and improve your fitness accordingly. There are three basic areas a rider has to focus on when improving their fitness for horse riding – these are cardiovascular, flexibility and strength.
Cardiovascular
Unless you take part in a lot of sport already, then the word cardiovascular will probably be one which you have heard but are not sure of what it entails. It basically relates to the fitness of your heart and the way it performs during exercise. This is what most people mean when they talk about fitness. If you measure your fitness by your heart rate and how much it increases during exercise, then you are measuring your cardiovascular fitness. To improve it for rising, there are many things you can do. To workout properly, you should exercise enough to raise your heart rate considerably but not to its absolute maximum. Cardiovascular training can be done by running, climbing stairs, riding a bike or working out at the gym. No special equipment is needed for riders to improve their fitness.
Flexibility
Flexibility is incredibly important when learning to ride because a rider needs to be flexible to be able to maintain their balance on the horse. A rider also needs to be flexible so they can move in time with the horse as it gallops or canters along. This flexibility is not just for the benefit of the rider but for the horse as well. A flexible rider makes for an easier ride for the horse. They also respond better to a flexible and not stiff rider. The best way to improve flexibility is to stretch often and a little further each time. Never push more than feels comfortable, as you run the risk of ripping or pulling a muscle.
Strength
Strength is important in all sports, but especially in one when you are controlling a huge animal like a horse. Although half the battle with horse riding is to have a good partnership with the horse so that it obeys you, you need to be string to issue commands and reprimand the horse if it starts to pull away. Ways to improve fitness include weights training, but also exercises such as sit-ups and push-ups which target specific parts of the body such as the stomach or the arms.
Do not underestimate the fact that you will need to be fit if you are to ride horses. It is possible to rise for recreation without having a high level of fitness but both you and the horse will gain more from it if you are fit. The more you ride, the fitter you become, so once you have established your fitness levels, as long as you ride regularly, they should be maintained.
You might also like...