Conquering a Fear of Horses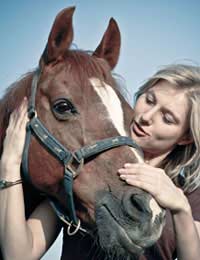 Many people are nervous around horses, and in some people, this actually goes as far as being equinophobia – an actual fear of horses. But many people will find that they want to overcome this fear. It is true that a fear of horses can be managed – and many people with such a fear may never have to come into close contact with a horse – but there are other people who will want to conquer their fear. Like many things, it can seem irrational to others – but also, like many phobias, it can be rooted in truth. Horses are powerful animals with the capacity to injure humans, especially if not treated correctly, so it does not make sense to dismiss the fear out of hand. Instead, there are ways to both suppress and conquer a fear of horses.
Nervous Riders – Nervous Horses
It is broadly true that a nervous rider will make for a nervous horse. Therefore, it is far better to begin to overcome a fear of horses before getting on one for the first time. If this is not the case, and a person gets on a horse before they are ready, the horse may well get spooked. Then the chances of the horse bolting or even just being a reluctant carrier of a person are far greater – and the chances of a fall are huge. This could set someone back a long ways in terms of having a fear of horses and mean they never overcome it.
A Love and a Fear
Many people admire or love horses and fear them at the same time. Therefore, a fear of horses can be quite debilitating for someone who actually wants to be able to love them, stroke them and even learn to ride them. But the good news is that someone who has a fear of horses but loves them and actually wants to spend time with them can build up a rapport with the horses. By starting small, feeding them sugar cubes, stroking them, it is possible to begin to understand the horse. By building up an understanding of the horse, a fear can be overcome. Much of the fear comes from not understanding the horse or what it is capable of and therefore, the more time that is spent with the horse doing normal things and seeing how it behaves, the more understanding there will be between horse and person.
Other Methods
There are other methods which may work for a fear of horses. While there can be no substitute for spending time with horses, some people find that learning to groom them before even thinking about riding them works, as it helps to see the horse in a different light. And for very severe fears, hypnotherapy can and does work. This is extreme and not cheap – but for someone who is determined to overcome a fear of horses may find it a suitable approach.
Like all fears, conquering a fear of horses takes time and effort. But, it is also easy to see where such a fear may stem from. Therefore, understanding both the fear itself and the horse are key components in terms of coming to terms with and ultimately, conquering a fear of horses.
You might also like...