What Age Should Children Start Riding Lessons?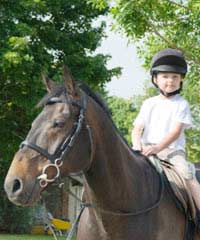 Q.I was wondering what is a good age for my daughter to start horse riding. I have only done a little riding myself and am no where near experienced but I think its a good thing for my daughter to get into, and she loves animals. Currently she is nearly 2, so what sort of age would be best to start taking her?
(Miss Sarah Hudson, 1 October 2008)

A.
Factors Which Determine When Your Child Should Start to Ride
The age at which instructors will take children for riding lessons varies, depending on each individual teacher. In addition, the size and maturity of the child in question will also make a difference to the age at which they can start riding. If your child is small for their age, they will need to wait a little longer before they can start, thanks to practicalities such as mounting and dismounting the horse, and merely staying seated. Conversely, if they are tall for their age they may be able to begin sooner.
Relative Maturity
Maturity also has an impact. A child who is mature for their age may be able to be trusted around horses a lot earlier than their peers. But if a child is particularly young for their age, the chances are they will not take to riding as early as they will not understand the way horses to need to be treated and looked after, let alone spot the potential dangers of working with such a large animal.
The best Age
The general accepted age at which it is a good idea for children to start riding is at around age seven. By this time the child will have enough self awareness to be able to obey simple commands and recognise potential hazards. In addition by the time they reach seven, they should be of the height necessary to be seated safely on a horse.
This is not to say that younger children cannot benefit from horses and riding schools. In fact, the earlier a child gets introduced to horses, the sooner they will feel comfortable around them. And if they feel comfortable around them, when they do start to learn to ride, they will not be frightened of munting a pony and riding it. The other advantage to taking younger children to the riding school to see the horses is that you can then teach them basic safety measures, such as never standing behind the horse. This means that by the time they start to learn to ride, they will have an inherent understanding of why horses can be dangerous.
You might also like...