11 Year old Mare: Need Advice on Leg and Hand Signals & Positioning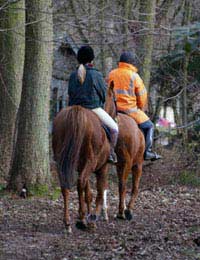 Q.
My 11yr old mare, has just recently been brought back into work after having a year off with her foal. She also had a young rider who didn't ride her very much. I don't know the history of my horse as I have only owned her for 18mths. I am riding her again now and she is good as gold - she has a fantastic topline and naturally brings her head under. However she is sometimes a little strong and to keep her head under we end up in a little battle. I am a little rusty at riding too and don't know if i'm giving her the right signals, can you offer any tips?
Second question, I can't get her into a controlled canter, she just gets faster and faster in trot until she forces herself into a burst of out of control canter! Please give me some tips as to the best leg signals, hand positioning etc
(K.A, 21 June 2009)

A.
Your hands, arms and legs are known as aids within horse riding, and with good reason. They are the most important tools you have at your command and the main way for you to communicate with your horse. Therefore, you are right in assuming your hand signals will help with the problems you are having with the horse.
But, if she is not keeping her head under, it can mean she is curious about what is going on around her. As such, you may want to try blinkers. If this is not something you fancy then you will need to make sure she is happy with her surroundings before being ridden. The other key thing is practice. Practice riding her to keep her head under and give strong hand signals, letting her know that she has done wrong when she does not keep under. It is no good carrying on riding when she does something wrong - do not get into a battle - rather, teach her who is the boss.
Strong signals with the reins are key - you may well need to try her with shortened reins so that she has fewer places to move her head to. But see below as well for advice on body position - shorten the reins too much and lean forward and you will be encouraging her to go faster, which you may not want at such a time.
In terms of keeping the horse in a controlled canter, body positioning is vital. You need to be sitting in the middle of the saddle, and the incline of the body is paramount in telling the horse when to go faster or slower.
Ideally, your body should be inclined more as the horse moves forward, decreasing the angle between your body and that of the horse the faster you want to go. To slow the horse down and make her more controlled, you sit up straighter and increase this angle.
Your weight should be supported on the balls of your feet, with your knees in front of them - this will allow the horse to feel you as you lean forward or backward to increase or decrease the speed and control.
You might also like...
You might want to use a martingale.
Kenna
- 25-Aug-12 @ 4:50 AM