Horse Boxes and Trailers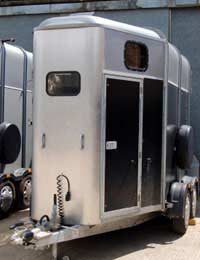 If you decide to start competing with your horse or even if you just want to go away with them, you will need to invest in a horsebox or a trailer. Even taking the horse to the vet can be made much easier with a horsebox so it is a sensible purchase. The two main types of horse transportation are the horsebox, which is essentially a type of all in one lorry, with living areas for you alongside the horse's area, and the trailer, which fits onto the back of your vehicle. There are a wealth of products on the market, and they range in size. Some will take several horses and are even big enough to be classed as HGVs and, as such require a HGV licence to drive.
Driving a Horsebox
If all you have ever driven is a car, it is wise to get some practice before you take your horsebox on the road as they are very different from a nippy little car. In addition, you must make sure you have all the relevant licences needed to drive it, depending on its size. For example, if you passed your driving test after January 1997, you will need to sit a separate test to tow a trailer which weighs more than 750kg.
When you are out on the road with your horse, you must always remember that while you are sitting comfortably, your horse is standing in transit. In addition, he cannot see where you are going or what is up ahead. This means that he cannot prepare for sudden movements, so extra care needs to be taken to compensate for this. Drive carefully and remember to leave extra room when turning a corner and use the mirrors. Always avoid sudden braking if possible because of your passenger in the back.When you are working out how much your vehicle can tow, do not forget to factor in the weight of the horse as well as the trailer, otherwise you could be in for a nasty surprise when out on the road.
Maintenance of Your Horsebox
Just as cars and other vehicles need regular maintenance, so does a horsebox. If anything, a horsebox should be checked even more than a car because if you do break down, it can be a nightmare. Biggest of your problems will be what to do with your horse, especially if he is not a good traveller at the best of times.
The horsebox will need tax and insurance just the same as a car, and you should carry out a lot of the same checks such as tyres, oil and lights.
After use, you should always power wash the box and, if the interior floor is wooden, check for signs of rotting. It may sound far fetched but there have been cases of horses being injured or killed by the floor of a horsebox giving way en route. From time to time also remove the bedding from the horse's area of the box and wash the interior thoroughly.
Buying a Horsebox
There are plenty of second hand horseboxes available, and it is a good way to pick up a bargain. But always make sure you check it thoroughly, as you would with any other vehicle. If you are buying from new and have a large budget there are many companies which will build to your specifications inside. You may be able to choose your furnishings, right down to the upholstery in your living area.
As with all things you will buy for your horse, the most important thing is safety. With a horsebox, this includes the safety of you, your horse and other drivers. Regular checks and maintenance will help to keep you safe. Consider taking out an RAC style policy, which in the event of a breakdown, will come and take care of the horse while the box is fixed. Remember, horses are not natural travellers. Some are better than others but if they are unused to travelling in a horsebox, building them up from small journeys is a wise move.
You might also like...
@Darren - there are places that give horsebox driver training, so that you can drive with confidence, as it can be a stressful experience, especially when taking your horse on the motorway. While we can't be seen to be recommending specific companies, you can do an online search in your area. I hope this helps.
HorseRidingLesson
- 17-Jun-15 @ 12:11 PM
I am learning to ride a horse and would like to know where I can get experience in driving with a horse box because I have only driven cars and would like a horse box of my own and then my own horse.
Darren
- 14-Jun-15 @ 2:16 PM