What do I Need to Start Horse Racing?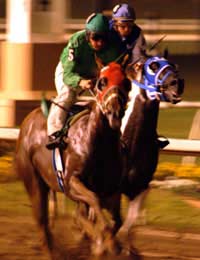 Horseracing is a beloved and prestigious sport – in fact, it is often referred to as the sport of kings. Of course, racing is also inextricably linked with gambling as well, and there is a lot of money in the sport. There are several different types of racing, all with differing levels of prestige and public interest. These include National Hunt races – which consist of fences and obstacles and flat races, as well as the amateur point to point races. Both the jockey and the horse need to be in prime condition to race and it can be very difficult having any idea of where to start if you want to get involved in the sport.
On the Path to Being a Jockey
The best way to become a jockey is to work your way up from the hoards of people who work in the stables. Stable staff have the best chance of making it as a jockey as they know the horse, the system, and the right people. But it is not an easy path to the top – there is a lot of hard and gruelling work involved in working in stables. And, there are always lots of other riders who also want to make it as jockeys to compete against.
One of the perks of working in a stable though is the relationship you will develop with the horses – they will trust and love the stable staff above anyone else. Mucking out and grooming are two of the main points of the job, and as a stable lad or lass gets better and more experienced, they will be given more responsibility – and, if they are a good enough rider, given the chance to become a jockey.
The Jockey Club issues permits for jockeys – and all jockeys need one unless you only plan to ride in point to points. Once a jockey is riding with a permit, they are no longer an amateur, and the pressure is on.
What Do I Need to be a Jockey?
There are many qualities needed to become a jockey, and chief of these is determination. A jockey also needs to have high levels of fitness and stamina and be prepared to do the training needed to stay this way. Many people say that – because of their size – jockeys are the fittest athletes around pound for pound.
Jockeys have to be light to allow the horse to carry them and move swiftly. There is a minimum weight of 10st for jumping races and 7st 12lbs for flat races.
Partly because of their size and partly because of the seat they adopt when riding in a race, a jockey is in a very precarious position, perched above the saddle. They need to be able to balance well on the horse to avoid nasty falls.
Getting into racing is far harder than getting into other equestrian disciplines, especially as you need a licence to do it. There are also fewer opportunities to break into the sport, and the physical restrictions limit who can compete.
All in all, it is a harder and more demanding sport to do than many others – but this has one major advantage. The ability of its competitors is assured, and those who do make it are truly deserving and talented.
You might also like...
when did national hunt racing start in summer months I think it was 1982 but not sure. would really appreciate your answer. Thanking You Des Harkin
jinks
- 24-Sep-14 @ 12:57 PM