Royalty and Equestrianism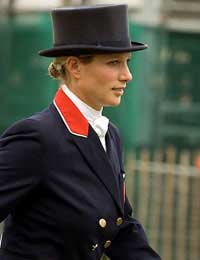 Royalty and equestrianism have long been linked, and the current crop of Royals, more than any other, have done much to advance this. Of course, the reasons we associate the Royal Family with equestrianism are, largely, to do with history. The Royals, by their very nature, are upper class. And in the past, the upper classes were the group who used horses for their carriages and for pleasure to ride out on. Even now, owning a horse is not a cheap thing to do so it is no wonder that we still see a lot of horse-related sports as the preserve of the upper classes and even, with some sports, such as polo, with the aristocracy.
Princess Anne
If there is one member of the Royal Family who has done much to advance this, then it is Princess Anne, the Princess Royal. Long regarded as the hardest working of the Royal Family, and given much credit for her charity work, Princess Anne is also a very able horsewoman. So able, in fact, that in 1976, she competed in the Montreal Olympics as an equestrian competitor. This made her the first Royal to ever compete in any Olympics. Prior to this, she also won the BBC's coveted annual award, Sports Personality of the Year in 1971, the years she was crowned eventing European champion. And she was also president of the Federation Equestre Internationale until 1994, as well as being the first member of the Royal Family to appear on popular quiz show A Question of Sport in 1987. So, altogether, a very accomplished sportswoman who has done much to further equestrianism in the minds of British people.
Zara Phillips
Princess Anne's daughter Zara Phillips has inherited her mother's love for equestrianism and has also been crowned European champion. However, at the time of writing, she had not yet competed in an Olympics – although this was down to her horse sustaining injuries before both the Athens and Beijing Olympics, rather than any selection of her. She is widely expected to compete in the 2012 Olympics. Zara also sustained a nasty injury in 2008 – she broke her collarbone on a fall from her horse Tsunami II but made a full recovery.
The Queen
It is well-known that the Queen is a lover of horses. While she has not competed in world sporting events as have her daughter and granddaughter, she does own a string of racehorses. They have not been the most successful stable of horses but this has not diminished the Queen's enthusiasm and she can often be seen cheering them on from the stands at Ascot. In 2010, she also made a rare foray to Aintree, home of the Grand National, where she cheered on Barbershop – her most successful current horse.
Although horse sports can be seen as elitist, it does seem that the Royal Family's love of horses and equestrianism is something which endears them to the public. Certainly, there is great support for Zara in her endeavours to win a world or Olympic titles, and the purple and gold colours of the Queen's horses and keenly supported by punters at race meetings. And with such a pedigree, it seems sure that Royals will continue to compete and enjoy horse sports for the foreseeable future.
You might also like...