Which Breed is Best for Which Equestrian Sport?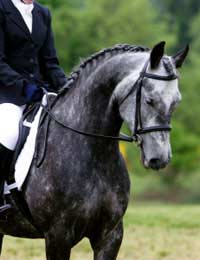 When it comes down to which breed of horse is best suited to each sport, the answer is very much up to the individual rider. Many people will have their favourite types of horses and some people will always want to go for a certain horse, no matter what it will be used for. On the other hand, some people may be buying their own horse and price may be a factor in the decision of which horse they are going to get. However, it is also true that some horses are ideally suited to some sports, and those who are looking to take any sport seriously should consider which horse to go for when deciding which one to buy or use.
Racing
When it comes to racing, or any kind of sport which needs a horse with considerable speed, then only a thoroughbred will do. This is obviously any type of horse with an established lineage and traceable parentage which has not been watered down through the annals of time. In addition, someone who is buying a horse for racing needs to consider gender. Although geldings and mares can be used for racing, stallions often make the very best racehorses due to their assertive, almost aggressive temperament and their haughty arrogance.
Jumping
When it comes to showjumping and related equestrian sports, something such as a Hanoverian is one of the best breeds to choose as they are most suited to the grace and elegance which a rider requires of a horse for these uses. However, one other important factor to consider when looking for a horse to use for jumping, is that you choose a warmblood. A warmblood was created when the coldbloods which are used for heavy work, traditionally across Europe, were bred with hotbloods – which are horses using for racing, again because of their fiery nature. The resulting horse is a warmblood which is not as excitable as a hotblood but has a bit more of a competitive edge and is not so large of body and bulky as a workhorse.
First Timers
First time riders may find that one of these coldblood horses are more suited to them. Because they have been bred in the past to be workers, they are docile and placid and will do as they are told. Under no circumstances should a hotblood horse be bought for a first time rider or anyone who is in any way nervous of horses as this could be a disaster for horse and for rider.
Due to the breeding of different types of horse for centuries, the list of breeds is absolutely endless. There are new ones being created almost every week. So, for anyone who is not quite sure of the type of horse which is best for their needs, the most important thing to remember is to decide whether a coldblood, hotblood and warmblood horse is needed. These are the groups which share certain characteristics with others within that group and therefore make it easy to judge which type is best suited to which sport.
You might also like...