Racing for Change: The Organisation and its Aims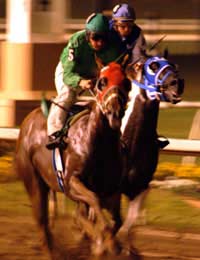 Racing for Change is an organisation which has divided the racing world between those who think it is a great idea and those who think it is a bad idea. Broadly speaking, the organisation is attempting to draw in more people to the world of horseracing through a series of initiatives which it believes are ways of modernising the sport and opening it up to a new audience. It is a relatively new endeavour and one which has not yet been judged on its success or not. But one thing is for sure, the organisers of the campaign are certainly coming up with a raft of new ideas.
Odds
One thing which the Racing for Change organisers have adjudged to be key to racing's declining popularity is traditional and fractional odds. These odds are seen as being a touch old-fashioned and therefore, Racing for Change is trialling using decimal odds at some courses on certain meetings, in a bid to make betting seem like an easier proposition. But those who believe the organisation's initiatives will not work say that people are used to hearing odds in the fractional form, even if they are not quite sure what they mean, and therefore, that changing them to decimal odds will only confuse people even further.
Household Names
The Racing for Change team believes that the sport misses out on some of the recognition which other sports enjoy. This includes some of the household names which can be found in football, rugby and the like. Therefore, the organisation wants jockeys and trainers to be more of household names. One such way it is promoting the cult of personality and, some would say, celebrity, through the racecards which punters use at meetings. By including photos and full names on these cards, jockeys should become more instantly recognisable to those who go racing and develop more of a following.
Free Meetings
Of course, one thing which puts many people off attending sports events is the cost. Therefore, by making certain race meetings free on certain weekends, Racing for Change hopes that people who have never been racing before will try it, and, of course, fall in love with it. Thus they will keep going to meetings and become a devotee of the sport and hopefully spread the word to others.
The organisation cannot be faulted for what it is trying to do but there are plenty of critics who have faulted it for the way it is going about this. Racing can be very traditional and some people, understandably, do not want the sport that they love being changed in order to attract people who, as they see it, do not appreciate it in its current form. But on the other hand, new people must be attracted to the sport in order for it to flourish. So, the one thing which Racing for Change is achieving is opening up the debate about how racing can grow into the 21st century. Whether its methods are right or wrong, at least the conversation has begun.
You might also like...