Being a Stable Hand: A Case Study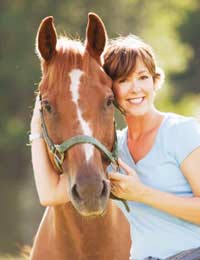 Mary is passionate about horses and has been from an early age. For her, working with horses is a dream job. Here she describes why being a stable hand is such a rewarding job.
"From the first time my mum took me riding as an over-eager eight-year-old, I knew I wanted to work with horses. Yes, I have, at one time or another, dreamed of being a jockey, an eventer or some other top horse rider. But realistically, I was never good enough at any of these things.
What I was good at, and still am, I think, is dealing with horses. Added to this the fact that riders, while they may get the kudos of the equestrian world, do not actually get to spend all that much time with horses and becoming a stable hand seemed like the perfect job. And there is plenty of scope for moving up in the world of stable hands. At the moment, I am happy in the ordinary stables which I work in but I haven't ruled out a move to a stables of racehorses or equestrian competing horses at some point in the future. As long as there are horses, I'll be happy.
It is true that being a stable hand is not the most glamorous job in the world - in fact, much of the time it is downright unglamorous. But the one thing which makes up for all of the dirty, backbreaking work is that I get to spend all day, every day with horses.
I love horses. I love the way they act, the way they feel and the way they think. People who do not understand horses may think that all horses are the same. But nothing could actually be further from the truth. When you spend as much time with horses as I do, you realise that each one is different and that they all have different personalities.
I love all of the horses at my stable but I also have to know how to treat them all. They are much like humans in that some of them have good days and bad days and good moods and bad moods. And like humans, when they are happy they like attention and unhappy they need treats and fuss. I know how to help each one of them and give them what they need to make sure they are not too unhappy or excited or skittish.
So, what does my job actually involve? A large part of it is about the stables themselves. Mucking them out and getting them ready for the horses each night. Making sure they are clean and comfortable is a priority. And this part of the job is worthwhile but it is the horses themselves which are the best bit. The grooming them, feeding them and cleaning them. The preparing them for each event and each ride. And, of course, riding them is a huge perk of the job too.
One day I would like to try learning to be a trainer as I really admire their work. But for now, I am more than happy as a stable hand, spending time with these gorgeous creatures who have so much to give any human."
You might also like...