Why I Became a Riding Instructor: Case Study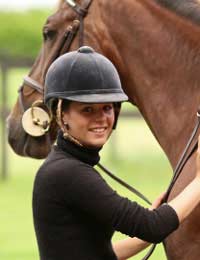 Heather, 35, has been a riding instructor for 15 years. Here, she describes exactly why she decided to take up riding as a profession and why good riding instructors are invaluable for your child.
"I have always ridden, ever since I can remember. I guess I probably got on my first horse at the age of five although because my family owned them, I was used to seeing them around from the day I was brought home as a baby.
But my schoolfriends who I took home with me did not have the same attitude towards horses as I did. Some of them liked the horses and had a go on the smaller ponies but there were also friends who were terrified of the horses, simply because they had never had any contact with them. This stayed with me as I became an adult, and I thought how terrible it was that some people may never ride a horse because of an irrational fear.
An Inevitable Career
I loved horses so much that it was inevitable that I would end up working with horses but it was more than my love of horses and riding which made me take up instruction as a career. It was this feeling that everyone should have a chance to ride if they so wanted and no-one should be put off riding because they were scared. So I decided to teach riding to children as a way of passing on my passion to a whole new generation.
I have all sorts of children come to my stables to learn how to ride, from kids who have always seen horses around but never actually learned to ride to children who have never seen a horse close up until they step onto my yard for the first time. But the one thing they all have in common is that once they see what magnificent animals we have here and what beautiful creatures horses are, they fall in love with them in the same way that I have fallen in love and stayed in love with them.
I think the horses do most of the hard work in convincing the children how great they are but I offer a little gentle encouragement. If a child is reluctant to mount a horse, forcing them is not going to make them enjoy riding. A better course of action is to allow them to spend some time with the horse and help them build up a relationship with the animal. This is what I try to do. Eventually, if a child wants to ride, they will conquer their fears and get on the horse.
Every time I see a child mount a horse for the first time, I feel an overwhelming sense of pride and pleasure as I can imagine exactly how that child is feeling. And I am with them for every milestone they pass by, be it the first time they trot or canter or the first time they enter a jumps competition. A riding instructor, especially for children, is as much about building confidence as anything. And every time I see a child beam with pride because they have just mastered a new skill or broken down a new barrier, I know exactly why I do this job. It's the best job in the world and I can never imagine doing anything else at all."
You might also like...