Caring for Your Horse: Time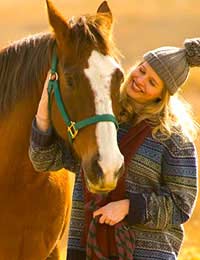 Time is a big part of horse ownership. Getting to know your horse and forming a partnership takes time and effort on your part. All animals need time put into their care and well-being and, far from being the exception, horses actually need more than most other pets. But do not think of this time being spent with your horse as a chore, but as the cultivation of a friendship.
What Takes the Time?
A lot of the most time consuming tasks associated with caring for a horse depend on your stabling arrangements and how much you allow others to do. Riding itself obviously takes a fair amount of time – no-one is going to go to the trouble of getting themselves and the horse ready for a ride only for it to take just a few minutes. But riding aside, there are plenty of other tasks which can take the time.
Grooming is fairly time consuming and needs to be done every day, as does mucking out. In addition, all of the other small jobs start to mount up when you add them altogether, and these include feeding, turning out and exercising and blanketing. All of this is even before you factor in getting to the stables – perhaps a good reason to look for a stable close to home or your place of work.
Once all of the mandatory tasks are completed, you should think about just spending some quality time with your horse when you are not doing anything other than getting to know each other.
How Much Time Should I Allow?
Once again, the answer to this question varies depending on the stable. In addition, when you start owning horses, you can expect most tasks to take longer until you have developed a routine. Once you have been doing them for weeks and then months, most tasks will take a lot less time than when you started.
If you want to see your horse every day, turn him out yourself and ride him, you should set aside a lot of time. This will include at least an hour in the morning and a couple of hours in the evening. If you add on another couple of hours for grooming and mucking out, you begin to see why owning a horse is a big responsibility and not something most people can manage without help.
Seasonal Variations
At the height of summer and in the depths of winter, times can differ. You may not want to turn your horse out at peak seasonal times because it is too hot or too cold, or you may want the horse to stay out all day. In addition, in winter horses need extra warmth such as rugs and blankets, so it is another detail to factor in. In the winter you may not want to ride because it is too cold or too dark, so you will probably devote less time overall to the horse than in summer.
A horse is a commitment; there are no two ways about it. It is an animal which needs love and care 365 days a year. It is not something you can simply decide to do the next day because you do not feel like it or because there is snow outside. Therefore, if it sounds daunting, or not possible, you should rethink your plans to buy a horse. It is not fair on the horse or yourself if you cannot commit to it fully. But take heart from the fact that you can have your horse fully liveried which means the stable yard will do many of the tasks which take the time, and you can simply enjoy being with your horse and riding him.
You might also like...