Veterinary Care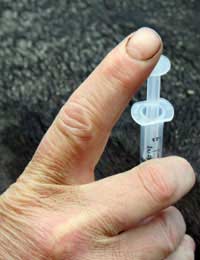 Veterinary care is an important need for all animals. But horses need vet care even more than most other animals. Horses are big animals with complex bodies and this means they require plenty of attention to be kept in good health.
Most horses also need to be fit. They do more work than the average pet with being ridden regularly and even competing with you. This means more care needs to be taken to make sure their bodies are in working order, and also, to prevent and treat injuries when they occur.
General Care
Like every animal which has even a halfway responsible owner, a horse should be seen by a vet when it is ill. This goes without saying really. But the horse needs other regular care routines. Some of these can be carried out by you yourself while others must be done by a vet. And usually, before you tackle any care tasks yourself you should seek your vet's advice to make sure you have decided on the right course of action for your horse or pony.
There are basic needs which every horse will need. These include regular injections. These injections include but are not exclusively restricted to tetanus and flu. Flu can really harm a horse, and, moreover, leave it open to infection.
The horse will also need worming every six to eight weeks. Worming a horse reduces the risk of colic and diarrhoea. Your vet should be able to give advice on a suitable programme of worming for your horse.
The horse will also need to be micro chipped, although this is as much for your benefit as the horse's. It means he will be able to be returned to you if he ever gets lost or stolen, reducing the risk of injury to him whilst not at home and also, being ill-treated. Of course, it also means the two of you will be reunited and avoid lots of traumatic experiences if the horse ever is lost.
The horse also needs dental care. If a horse's teeth are not looked after routinely, he could have problems accepting the bit, which can lead to all kinds of other problems and even dangers for both of you.
Hoof Care
Regular hoof care is essential. A farrier, as well as a vet, will be needed to look after the hooves and change the shoes. But your vet will be able to point you in the direction of a good farrier. They will often work together, as if the horse contracts any health problems through the hooves, the vet will need to treat them. Bad hoof care leads to problems for the horse so make sure the hooves are well looked after and picked out after every ride.
Pre-Buying Exam
Always have a vet examine the horse you are planning to buy before you part with any money. There is an actual exam, called the five stage veterinary examination for purchase, which should be carried out before the sale is completed. It is regulated by the Royal College of Veterinary Surgeons and it will tell you definitively whether you should buy the horse on health grounds or not. It is not a cheap exam, but it is worth it.
A good vet is always needed. If you don't have one or know of one then ask around. Other horse owners will always be willing to recommend a good vet and it is the best way of ensuring you know what you are getting. Vets are expensive, but, at the end of the day, you will save money in the long run by having a vet who can treat injuries effectively and help keep your horse healthy. Plus, any horse owner should want to do anything they can to minimise discomfort to their pet.
You might also like...