Definitions: Stallions, Geldings and Mares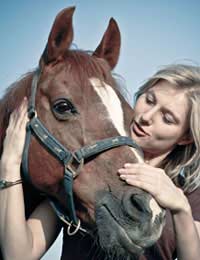 It is safe to say that the majority of British people know that stallions, geldings, mares and other similar terms refer to horses. However, unless you are a big horse fan or a fan or competitor in one of the horse sports, it may be that you are not exactly sure what each term means. Each term refers to a particular type of horse, just as pony should be used to refer to a type of horse which is not larger than a pre-determined size, rather than a young horse as many people assume. And, furthermore, each type of horse has a particular temperament and therefore is better suited to some things and some riders than others.
Stallion
Stallions are, essentially, male horses which have not been neutered. This gives them many traits, as one might expect. A stallion is usually prone to arrogant and haughty behaviour and can be aggressive. However, if broken in properly, stallions can be magnificent animals which are ideally suited to the demands of the racetrack and this is why the majority of the thoroughbred racehorses seen on tracks today are stallions. A stallion also has the advantage that it can be put out to stud and hopefully sire a succession of successful racehorses after its own career has finished.
Gelding
A gelding is a male horse which has been neutered. Although a gelding can obviously not be put out to stud, it does offer several advantages over stallions, not least that they are calmer and easier to break in. In fact, geldings are often kept in a stable with a stallion to attempt to calm them down. Even a goat has been known to be used for this purpose. Because of their calmer nature, geldings are usually used for most equestrian sports, as they are easier to train than a stallion but stronger than a mare.
Mare
A mare is a female horse over three years of age while a filly is one under three years old. Mares can be used for many reasons and mares and fillies usually have their own races on cards at race meetings. Mares are more temperamental than geldings and can have their year disrupted of they are in foal. However, when it comes to racing, many people believe that mares actually race better when they are in foal than when they are not, largely thanks to the extra shot of hormones their body produces.
There are lots of terms which may confuse a novice to horses and these are just some of them. But knowing what they mean will help the novice to get to grips with a lot of the equestrian world, whether they are a parent of a new rider, a new rider themselves or even someone who has recently become a fan of one of the horse sports. Like everything, these horse sports do have their own jargon, and knowing even a little of it will make the newcomer feel much more at home from the outset.
You might also like...