How to Care for a Horse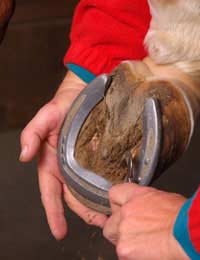 Whether you are a horse owner or you are just considering purchasing one, you need to know how to care for a horse. Just like any animal, owning a horse requires commitment on your part.
Once you take on the responsibility of owning a horse, you will need to be ready to provide it with not only the monetary items it needs, but also spending time with it and checking on the horse's general health. Overall, you should be willing to allot about two hours a day to your horse to make sure it receives the proper care.
Time
One hour of the time you spend with your horse should consist of riding it, observing it, and/or training it. This gives you both time to learn from each other. By spending time with your horse, you can learn more about its personality while the horse remains mentally aware of the fact that you are still the boss. You may even want to take note of some of the personality traits you notice when spending time with your horse.
Horses need daily exercise. This includes riding him or her, but also for allowing the horse enough room roam or run around in a pasture alone. Horses should not be kept in a stall all day unless they are ill and a veterinarian recommends it. Make sure that the fences of the pasture are safe and secure.
The second hour of the time should be spent grooming, feeding, watering, and cleaning the horse as well as cleaning the stable. It should take you about 30 minutes to groom your horse. This will give you time to check his or her general well-being.
Shelter
When you are not spending time with the horse or it is not out to pasture, it needs a safe, comfy shelter to protect it from the weather. The shelter should protect the horse from rain and wind, but also provide enough shade on sunny days.
If you cannot provide an indoor stable for the horse, you should at least have a three-sided shed that the horse can go as needed. Remember that you should dispose of the horse's manure from its stable or shed on a daily basis.
Food
The average horse will eat about 20 pounds of food a day as well as drink approximately eight gallons of water a day. Horses have a small stomach and need to nibble or graze on hay throughout the day, so make sure they have access to hay or the pasture during the day. You should also plan two additional grain feedings two times a day.
Water should be readily available to the horse as needed. You should check the water supply at least once a day to ensure that the horse does not run out of water.
Healthcare
Regular health care maintenance on your horse is a must to keep it happy and healthy. Your horse needs regular hoof care, so you should have a blacksmith visit every six to eight weeks for either hoof trimming or shoeing. Horses, because they are exposed to intestinal worms from the ground, must be dewormed every six to eight weeks.
At least once a year, your horse should be seen by a veterinarian to get vaccinated and receive routine dental care. But, realize that emergency health care issues may arise from time to time.
Being the owner of a horse can be consuming of both your time and money. However, the joy you will get from your horse should far outweigh any costs. Taking care of your horse will allow him or her to live a longer, happier life and it will cut down on medical expenses due to neglect or lack of care.
You might also like...