Good Hoof Care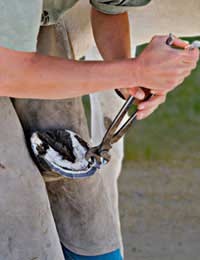 Horses' feet are so important that it is imperative they are looked after carefully and thoroughly. Horses support a lot of weight on their feet which are a relatively small surface area. Lameness can be a problem if hooves are left uncared for and therefore, good hoof care is vital to the well being of the horse.
About the Hoof
The hoof itself is the hard outside covering of the foot. There are no nerves and no blood supply in the actual hoof. Inside the foot, within the hoof are the parts known as the wall, the frog and the sole. The hoof is attached to the bones of the foot from within. It is vital that a horse is balanced evenly on all four hooves to stop him from becoming injured or lame.
The Care a Horse Needs for his Hooves
The hooves must be cleaned with a hoof pick every day. It should form part of the everyday grooming and is the single most important thing you can do for your horse. The hooves should be cleaned both before and after riding. You should make sure you get out all of the dirt and debris lodged in the hoof by flicking the pick forward. Horses kept in stables will need their hooves cleaning every day, but a horse kept out to pasture all of the time will manage with only having his hooves picked periodically.
Hooves also need trimming, as they grow constantly, much like human fingernails. They should be trimmed approximately every six to eight weeks but this must always be done by a trained and qualified farrier. In the same way that cutting toenails too short can be painful, so can cutting the hoof too short. Trimming them badly also affects the balance of the horse and if they are uneven, the horse will go lame.
Some horses also need shoeing as part of their hoof and foot care. Not every horse needs shoeing. But horses which are hard workers and those kept on hard, confined stables will need to be shod. Some horses will need shoeing even if they do not fall into these categories, particularly if they have had problems with their feet. It is best to seek the advice of a vet or farrier for this.
Problems Poor Hoof Care can Create
A bad routine of hoof care can lead to many problems, almost all of which are avoidable if the steps above are always taken. Thrush is probably the most common hoof problem. It is basically an infection of the frog, and similarly, canker is an infection of the whole foot. Both problems cause a foul smell and discharge. The conditions can be brought on by dirty living conditions, so it is a good reason to make sure the horse is mucked out daily.
Like human feet, horse feet can also be prone to corns. Corns can be caused by shoes being left on too long. If left untreated, corns can leads to abscesses which are particularly painful and can lead to lameness in at least one foot.
Horses can also develop cracks in their hooves. These can be very serious and make the horse's foot bleed. If you see bleeding, seek a vet's advice as soon as possible as infection could be likely.
There are many other foot problems but, as with the ones listed, the vast majority are easily avoided by good hoof care and hygiene.
A good hoof care routine will eliminate most problems. Find a good farrier who is good at his job – it will pay in the long run. Horses' feet should be treated with the utmost care, not forgetting that if a horse becomes lame, not only will he be in pain, but he will not be able to be ridden: so look after you four legged friend as you would yourself.
You might also like...