Insuring Your Horse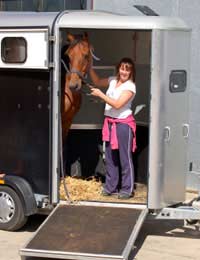 Like other major life purchases, a horse needs to be insured, to protect your investment if anything should happen to it. You must look at it the same as you look at other major purchases, even though it is, essentially, a pet. You would not spend thousands of pounds on a car or other possessions and not insure them - and in the case of a car you could not – so why not a horse? In fact, when dealing with a living creature, there is even more reason to insure them as so much could go wrong.Things to consider include death, vets bills, injury and sickness. All of these eventualities need protecting against, not to mention theft.
The Horse Itself
The horse itself should be the primary reason for insurance – although as we will see below there are other things which need protecting too. But you have to be aware that if your horse dies and you are not insured, you are not going to get your money back. This is one of the reasons for insuring a car – if it is written off, you do not lose everything – and the same principle is applied to equine insurance featuring a death clause.
Insurance also protects you against soaring vets bills which can quickly mount up. Not only do they usually increase year on year but they are also unpredictable – your horse can get sick even though the week before everything looked fine. You never know when it is coming – again, much like a car which needs fixing.Finally, horses can be, and indeed are, an attractive target for thieves. If someone unscrupulous wants to break into your paddock and steal a horse, they usually can do – and insuring your horse is the only way to make sure you do not lose out financially as well as emotionally.
Liability
If you take out liability insurance as well, it means you can be protected in the event of a fall – and you are insured if your horse hurts someone else or damages property. Otherwise you could end up in a very sticky situation if your horse demolishes a shed and you have no money to pay for it. In some competitions, third party liability insurance is mandatory, although in many, it will be included in the cost of entry. Still, it is always wise to look into the availability of liability insurance for any eventuality.
Insurance may feel expensive at times but it is not really an expensive outlay and in the long run it will save far, far more times over than it will cost. It is highly likely you will need to claim at some point – what horse does not get ill or injured and who never has a fall? The costs associated with horses are huge – and without insurance are huger still. It makes no financial sense to avoid insurance, and, in the long run, you will be glad you did. There are plenty of insurers who offer equestrian cover and some who specialise in it. Shop around for the best deal and you will be pleasantly surprised.
You might also like...