Stabling Your Horse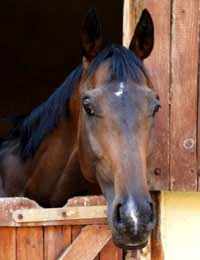 By nature, horses are roaming animals and so being in a confined space is abnormal to them. This fact must be borne in mind when deciding how to stable your horse. Letting horses roam freely is clearly neither practical nor safe but when looking at stables and deciding where to keep your horse, roaming should be taken into consideration. A horse should be as happy in its stables as you are in your home.
Services
Most stables and livery yards offer a variety of options to best suit the horse and its owner. Unless you are lucky enough to have your own stables, you can expect to pay for this service. The levels offered start at full livery, the most expensive option. The livery yard will usually do everything for you, including exercising the horse, mucking out, grooming, feeding and turning out when required. It is an expensive option, but means you would not have to worry about your horse. If you work in a demanding job or have small children and cannot get to the yard daily, it is best to choose full livery. All you need to do is go along on the days you want to ride, safe in the knowledge your horse is being well looked after.
Part livery is a popular option for many riders. This is, at most yards, the same as full livery but without the exercising. This usually means you will have to attend when you want to turn your horse out although obviously, details do differ from yard to yard.
Grass livery is basically the rent of a paddock with grazing grass for your horse. Normally, yards will offer add-ons at an extra cost. Of course, if this all seems like a lot to take in, you could be lucky enough to find a farmer who is willing to lend his field for a small charge. But this will not include any care of the horse or stabling and you may even be required to maintain the field yourself.
Problems Associated with Stabling
Unfortunately, a horse which is stabled can be prone to problems if not watched carefully. These include box walking where the horse will walk around the stable in circles. Caused by boredom, the best cure or prevention is to turn the horse out as much as possible. Crib-biting is also caused by boredom although horses can pick it up from copying other horses. This is when they will gnaw at the stable door or anything else nearby. One way of stopping the behaviour is to apply a special paste to dissuade the horse from doing it.
Weaving also can be picked up as a habit from another horse or caused by boredom. When a horse shifts its weight from one side to the other and sways its head, this is known as weaving. Either remove the horse from the companion it is copying or make sure it has plenty of distractions, such as other companions and toys.
The Stable Environment
When choosing a stable, it is important to look for somewhere which will be a comfortable home for your horse. It helps if the horse has a view of other horses, ponies or even donkeys as they are sociable animals and do not enjoy being left totally alone.There should be good ventilation and plenty of light – like humans; horses do not like dark and dingy spaces.
A continuous supply of water is needed and plenty of bedding. Experiment with different types of bedding as many horses do have a preference.
Finally, make sure there are toys available for the horse to play with. These can include balls hung up and coated with molasses or balls put on the floor for the horse to kick around, which release food as they move.
The main thing is to find a stable which the horse likes. It is his home after all. Secondly, do not to try to take on too much. If you do not think you will be able to make it to the yard to turn him out every day, then pay someone else to do it, otherwise the horse will be unhappy and develop other problems. It is the welfare of the horse at stake and responsible owners will want to ensure he is happy in his home.
You might also like...