Where to Buy a Horse?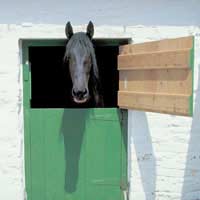 If you have decided to take the plunge and buy your own horse, you will probably be wondering exactly where to start. A horse is a big investment and one which requires a lot of time and effort – it is not a purchase to be entered into lightly. The main thing to remember in a search for a horse is to buy from a reputable place where you may have some recompense if all does not work out between you and your horse. The horse must suit you and you must suit the horse for it to be a good match.
Stables
The best place to buy your horse from is the stables where you ride or where you plan to keep the horse. The stable owner will want to keep you happy as a valued customer. Therefore they will make sure they sell you a horse which you are going to like and which is going to suit you. In addition, a stable owner will have innumerable contacts in the field and will undoubtedly be able to show you several horses. The owner will also know you and what kind of horses you have been riding until now – invaluable insights when it comes to finding the best horse.
Instructors
If an enquiry at the stables has not proved fruitful then you could do much worse than to consult your instructor. Your instructor will have a vested interest in you as a rider, particularly if you plan to start competing. They will want to ensure they have a winning team on their hands, and finding the right horse is the very first step. What is more, your instructor will know your strengths, weaknesses and limitations like no other person.
Classifieds
If you are still struggling after exploring both of these avenues, then go to the classifieds. The local newspapers and bulletin boards in tack shops and stables will all have plenty of adverts from people looking to sell a horse. There will be lots of choice, but you always have to bear in mind that the seller could want a quick sale. They may not be interested in whether you and the horse are well suited and be more eager to relieve you of your money. Thankfully, few horse owners are like this. The majority of them will want to see their horse well placed and well looked after and will be checking you out as much as you are the horse. But the other major drawback to this method of finding a horse is that you have limited recourse if it all goes wrong and a few weeks down the line you discover you and the horse were unsuitable.
Tips for Buying
To ensure that you make the best possible decision when it comes to buying a horse, there are certain steps you can take. Firstly, take along someone who knows what they are talking about. You would never buy a car without consulting the advice of someone who knows cars and the same goes for horses.
Other similar principles apply. You will obviously want to take the horse for a test ride, just as you would take a car for a test drive. But before you mount the horse, inspect it all around. Then ask the buyer to ride it. Watch how they mount and how the horse reacts to being mounted. When you are satisfied it is safe to do so, mount the horse yourself.
If you are interested, arrange a second visit before you agree to buy. Some people will even let you organise a home visit where you take the horse for seven to ten days to see how it adapts to being with you. Always have a vet look over the horse so you know if there are any underlying conditions you should know about – horse buying is more like house buying in this respect.
Wherever you do decide to buy from, always remember one thing. Yes, a horse is an investment, the same as a car or house. However, the similarity ends there. A horse is a living, breathing creature. It will need lots of tender loving care and lots of attention. If a horse suits your temperament and you enjoy spending time together, you are sure to have a long and happy life together.
You might also like...
My friend has two horses. She sometimes lets me ride hers but I really want one of m,y own. Her parents say they will do a horse share - we will look after it and ride it and they'll provide the livery space etc. We pay half of the actual horse cost. The deal is whenever we sell her they have to have their money back and their daughter can also rideit in competitions if she wants to. Is this a good deal?
Horsemad
- 21-May-12 @ 7:26 PM