Buying A Horse for an Adult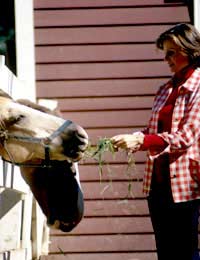 Buying a horse is an intimidating thing to do, especially if it is your first horse. The main thing to do is to always take someone along with you who knows what they are looking for when you are buying a horse and never, ever part with money until a vet has examined your new friend.
Pitfalls to Avoid
There are many pitfalls to avoid as you would expect with such a major purchase. Most people within the horse riding fraternity can be trusted, but there are always going to be unscrupulous people to look out for.
Watch out for sellers who do not know the history of the horse they are selling. There may be a perfectly good reason for this but it is never a good idea to buy from them in case they are hiding details for a reason.
Sellers who don't want you to visit a second time should also be avoided. If the horse is already saddled when you get there you should see it when it is not. If they do not want you to then there is a reason for it – the horse may become unruly or reluctant to be saddled.
Auctions should be treated with care. If you are planning to buy at auction you should always research the horse beforehand. Sometimes, horses can appear dazed at the actual auction, because of travelling, and they could have been given a tranquiliser to calm them down so this will all need to be checked out.
Be careful about impulse buys. It is easy to fall in love with a horse – they are beautiful animals. But once you have bought the animal you may not bond because you are different in temperament and then you will have a problem and will probably have to sell.
Checklist
As with any major purchase there is a checklist you should follow before you complete the deal. Always make sure you know the horse's age and check its suitability and disposition. Ask what it has been used for in the past and look at its general condition including alertness and its coat. When your vet examines it, they should be looking at the eyes, ears, organs, limbs and movement. They will also check for parasites, including worms and ticks.
Trialling the Horse
The horse should be trialled thoroughly before you agree to any sale. But never get on the horse yourself straightaway. Ask the seller to ride it and see how it responds to being handled and ridden. When you have decided it is safe to do so, then mount the horse yourself and ride it to see how it feels to you. If you are still interested, then ask to take the horse home for a visit of a few days so the two of you have chance to interact in a more natural setting. You will be able to get a much better idea of what the horse is actually like than on a brief visit to the seller's stable.
The golden rule is to check and check again. Especially if you are buying from classifieds – as you have no comeback if something goes wrong. A second opinion is always good, particularly if you are not sure about what you are looking for yourself. Remember a horse is an animal. You may or may not suit each other and this should be your primary concern for a happy and long-lasting partnership.
You might also like...