Financing Your Horse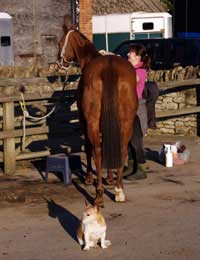 Once you have set your heart on horse ownership, done all of the necessary research and decided you can juggle the financial and time constraints of owning a horse, you have to look at how you are going to pay for it. Horse owning is an expensive business from the start, and although the day to day costs are considerable, the outright purchase itself is far from cheap. Most people will need to look at ways of financing their horse. Buying outright is obviously the best option but it is not always possible to bide your time and save the pennies. If you really cannot wait, then there are a couple of good options open to you.
A Horse Loan
There are lots of financial institutions which will offer a specialist loan to buy a horse, just as they would to buy a car. Take a look at lots of different ones until you find one with the terms which suit you. They are not all alike. Some loans are aimed at people who want to buy a race horse, or even just to buy shares in a race horse, while other smaller loans will be better for people looking for a pony for their son or daughter or a horse to use for hacking out on light summer evenings. The benefit of a loan is that often, the loan company will offer enough for you to be able to buy the tack and equipment you need to set yourself up. This is a bonus as this is all very expensive too and needs to be paid for in some way, as you cannot ride without it.
Horses for Loan
Another way to finance your horse, if you do not like the idea of taking out a loan, is to loan the horse. Hiring a horse can be a good option for people who cannot afford to buy one outright but need a horse to ride. It is also a good option for people who cannot ride every day as you will only need to hire it for a few days a week, in a kind of horse share scenario.
When you are looking at horses for loan, there are a few rules which should be abided by. You must get a contract drawn up between you and the owner stating the terms of the loan as well as the costs. This will include such details as how much you are paying, what the horse can be used for (just riding or jumping too), where it should be kept and who is allowed to ride it. Make sure insurance is either included or you have some from elsewhere to avoid being left with any nasty bills.
Horses bring a lot of enjoyment to their owners, but at a financial cost. So, if you cannot afford to buy one, rather than get yourself into financial trouble, consider one of the options above. Both should leave you with a manageable monthly amount to pay in order to enjoy your horse. Do be careful to never borrow, or commit yourself to repayments which are more than you can afford. In addition, always factor in the other costs of keeping a horse. Once you have worked out a budget stick to it and you are your horse should enjoy a happy life together.
You might also like...