Other Horse Riding Governing Bodies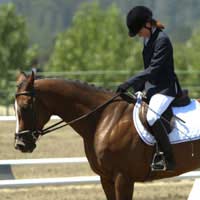 Horse riding is a very well-regulated sport. And because of this, there are lots of governing bodies to regulate it and make it as safe as possible. There are so many different disciplines – in sport alone – that it needs many different bodies to cover them all. This is without even thinking about all of the other aspects of horse riding and owning which do not fall under a sport heading. But the bodies are all inter-connected which gives a sense of order to proceedings.
British Equestrian Federation
The British Equestrian Federation (BEF) covers all horse sports, horse activities and even trade of horses. It is affiliated to the worldwide governing body, the Federation Equestriane Internationale (FEI), but the BEF is the main body in the UK and represents its members' interests to the FEI. The BEF does not cover the rules of the different sports – that is left to the individual members, but it does co-ordinate the international events for the UK and looks at the bigger picture with all of the problems that brings – doping and disciplining to name but two. The BEF also represents horse riders in the UK to other UK bodies, such as the British Olympic Association and Sport Aid – helping to get recognition and funding for equestrian sports.
Member Bodies
All sports have their own individual governing body. In turn, these are all members of the BEF to give structure and regulation to the whole proceedings. But these members' bodies do not just include sports.
The bodies include British Dressage, British Eventing, British Showjumping Association, British Equestrian Vaulting, British Horse Driving Trials Association, British Reining, Endurance GB, British Horseball Association, Mounted Games Association and UK Polocrosse Association.
But as well as these sports bodies, there are also specialist bodies which look after a particular area of riding such as the Scottish Equestrian Association, for riders in Scotland and the British Riding for the Disabled Association, which covers all aspects of riding for disabled people.
Then there is the British Horse Society, a charity which looks after the interests of both horses and riders and offers advice on welfare and caring for your horse. The Pony Club – the wide ranging and celebrated youngsters' organisation – is also a member body.
Then there is the Association of British Riding Schools which looks after and regulates schools across the country – a vital job for safety of new riders.
Finally, the last member body is the British Equestrian Trade Association, which as the name suggests, is responsible for the trade of horses within the UK.
Governing bodies keep both riders and horses safe as well as organised. That is why, when looking for a club to join, school to learn at or competition to take part in, you should always check they are affiliated to one or more of the governing bodies. That way, you will know you and your horse will be getting the best possible level of care, instruction and safety. What is more, with a well regulated and organised system, you will be able to take recognised exams and compete in recognised competitions, thus keeping in step with your peers and moving up to bigger and better competitions.
You might also like...