Dressage Manoeuvres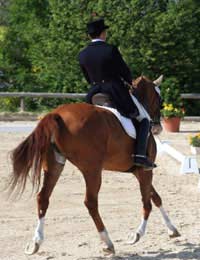 Dressage is an exacting and demanding sport. It requires precision from horse and rider – and this is more important than ever when the partnership is executing a series of required manoeuvres. In any dressage round the competitors will need to perform a series of manoeuvres and will be given marks for each one. The tests and manoeuvres they are asked to do reflect the horse's level of training. Dressage is really all about being able to exact manoeuvres technically accurately but also having a level of elegance and beauty.
Gaits
The horse's gaits are judged during a dressage exercise. These include the basic walk, trot and canter – performed to a high level – but also include variations on them which the rider must master. As well as the normal gaits, extended gaits will often be needed. Most usually asked for in a trot, the extended trot needs the horse to lengthen its stride on demand. It gives the appearance of a floating sensation when done properly, as the suspension point of the horse is increased in each stride.
Horses will also be expected to perform collected walk, trot and canter which is more similar to a normal gait.
The higher a horse goes within dressage the more he will need to do – for gaits this will include passages. These are very difficult to master, and are basically a slow motion gait. Teams will also need to perform a half pass, only done in the trot and canter. The horse will travel sideways on a diagonal line with its body parallel to the side of the arena.
Movements
As well as a series of gaits, the dressage horse will also have to be able to perform a series of movements which essentially take place on the spot.
Pirouettes are one of the most common. As dressage is often described as horse ballet, it should come as no surprise that a movement shares its name with a ballet movement. The basic principle is the same too – a horse will turn in one place in a canter movement. When done well, it exudes all of the elegance of ballet and is a dramatic and beautiful movement.A piaffe is a kind of trotting on the spot. The horse is expected to swap diagonal pairs of legs over, springing from one to the other.
Tempi changes are when the horse is cantering and has to switch his lead leg.
Freestyle
In some competitions, especially higher up, riders choreograph freestyle routines. These are normally choreographed to music. In a freestyle routine, as well as marking on performance and difficulty, riders are given artistic marks too, so it is important for them to be original in their choreography.
Riders have to be careful and exact when it comes to dressage manoeuvres. It is a difficult sport for both rider and horse to master. But, when they do, it is beautiful for all to watch and spectators can get a real treat as they admire the hard work, elegance and power which goes into each performance.
You might also like...