Horse Shoes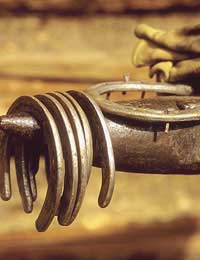 Horse shoes have been regarded as a lucky symbol in many cultures for many centuries – but they bring far more than luck to horses. If a horse needs shoes it really must have them, as without he could suffer from lameness or even worse. This lameness can also be caused by shoes left on too long or incorrectly fitted and therefore a trained farrier should always be used by horse owners.
Which Horses Need Shoes?
Your vet and farrier will help to advise you as to whether your horse needs shoes or not. But as a general rule, if your horse is a heavy worker or does a lot on hard ground, he will need shoes. In addition, if he is kept in one place for many hours at a time he will probably need them. Horses who have foot problems can also have special corrective shoes fitted to make their problems less severe or to correct them.
Horses which are kept on pasture all year round do not normally need shoes, thanks to having plenty of space to move around and a soft ground. But there is a debate currently raging in horse circles about shoes. More and more people are starting to advocate what are known as 'barefoot' horses, leaving them without shoes, as nature intended. It is up to the rider and a vet should always be consulted before making a decision.
Horses in confined environments need shoes because if they cannot walk around, they will not be able wear down their hooves as well as horses who have plenty of space to move. Horses which are carrying extra weight will also need shoes, as will horses in a wet climate as the hooves will be more prone to injury.
One more point to note is that hooves can be weakened by ammonia in urine – so if a horse is not cleaned out regularly, he will suffer. Shoes cannot prevent this but they can stop the problem from getting worse.
How to Shoe
A qualified farrier is the only person you should let shoe your horse. Mistakes which are made with regards to hooves and shoeing can leave the horse lame.
Shoes should be replaced every six to eight weeks and hooves should be trimmed at the same time.Shoeing does not hurt the horse if it is done properly. Nails are driven into the insensitive part of the hoof – where the horse cannot feel it. The shoes are then bent to the correct shape using a hammer and anvil. Farriers can use either a hot or cold method of doing this and although hot shoeing takes more time, in the long run it provides a better fit.
What Material are Shoes Made From?
Shoes are usually made of some type of metal. This is normally either steel or aluminium. Steel is harder wearing and is therefore used for horses who need hard wearing equipment such as those in polo, eventing and showjumping. Aluminium is usually chosen for horses competing in dressage as it is lighter and makes the feet look prettier as they are lifted up.
Whether to shoe or not is always up to the individual owner. But you must always take advice from your vet about what they think is best for the horse. A trained farrier must always be used for anything to do with horses' feet. It pays in the long run to find a good farrier from the start – for the horse's sake if not for your own.
You might also like...