A Healthy Diet for Your Horse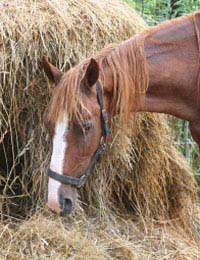 Horses live a long time and keeping them healthy for their whole life is not always easy. But a well-balanced diet can play a major part in ensuring your horse does not fall ill or become lacking in energy. Horses need plenty of nutrients for many different functions, so food is as important for them, as it is for humans.
Grazing
Horses are grazers by nature. Rather than eat a lot of food in one sitting they will graze steadily throughout the day. Their main type of food as a result of this is grass. Ideally, a horse needs a paddock with different lengths and ages of grass. If possible, he needs to graze in an area where there is newly grown grass and older, longer grass. Herbs and weeds are also useful if they are in abundance too. Unfortunately this is not a common way to keep horses and few will get all of the nutrients they need by grazing alone. The sown pastures which predominate as a place to let horses graze loose the variation in the types of grass so horses which live here, or in a stall, need supplementary food as well.
Long Feed
Most of this supplementary food comes from what is known as long feed. Long feed consists of fibre and roughage and is vital for the good digestive function of your horse. Grass is a source of fibre but when it is not available, such as in the winter months, your horse will need plenty of hay to get the food groups he needs to keep functioning correctly.
Straights
Another type of horse feed is known as straights. Straights make up a small but important part of your horse's diet. Straights are foods such as cereal and grains which give the horse energy and nutrients. But beware; straights can cause a horse to become overweight. Generally speaking, the more hard work a horse does or the more competitions he is taking part in, the more straights he will need. But ponies and light workers need far fewer straights. If you feed them the same as a bigger, harder working horse, they will become overweight.
Other Food Sources
There are plenty of other types of food on the market for horses. This includes a wide variety of compound mixes. These are special mixes of different food groups for specialist horses. They include a high energy mix for competing horses. Always read the advice from the manufacturer with regards to these mixes though, and make sure you give your horse the appropriate one for what he does.
Most horses are also fed a small amount of succulents. Succulents are foods such as apples and carrots. They can be used to tempt a horse's appetite and to treat them when they deserve a reward. These are also an important part of a horse's diet but should be used in moderation.
Advice from the Vet
Just like people, horses are all different. As such, when you first purchase a horse, you should consult with your vet to find out exactly what mix of food you should be giving to him. In addition, your vet will advise you on a couple of feeding related problems which horses sometimes develop. One is choke. As the name suggests, choke occurs when a horse has bolted its food or not chewed it properly. This results in an obstruction in the throat. To alleviate the risk, always cut succulents into long, thin pieces rather than chunks. Dampen down other food with water. If the horse does develop choke and the symptoms have not gone within half an hour, you should call a vet.
Quidding is another problem horses can develop. This occurs when the horse continually drops chewed, but not digested lumps of food from its mouth. It should be inspected by a vet if this occurs, as if the horse is not eating its food, dramatic weight loss could well follow.
A good diet should lead naturally to a good horse. Do not forget to leave plenty of water for your horse as well – some horses can drink in excess of 50 litres a day. Food should always be clean and good quality. And, just like humans again, horses should not exercise immediately after eating, so try not to ride them for at least an hour.
You might also like...
Some really good basic information here, written in an easyto understand way. the more we can all learn about feeding horses the better! Thanks for the article
learn2horse
- 23-Apr-15 @ 2:00 PM