Showjumping Heroes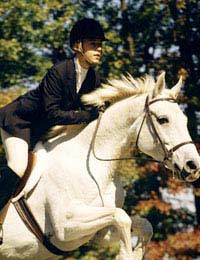 Showjumping is a prestigious sport. There have been many heroes associated with it and other forms of competition, and these are not confined to riders. There have been plenty of horses lauded as heroes as well. Riders who ride well tend to become high achievers. A passion for everything connected with the sport infuses these people and many go to on great things. Novice riders, children and experienced riders who want to better themselves look up to these people and aspire to be like them.
Jean Francois Pignon
Jean Francois Pignon is not merely a showjumping hero. His displays are horsemanship and his relationships with his horses are generally thought of as second to none. He displays an unmatched amount of trust and skill in his equestrian displays which leave even the most experienced riders gasping in wonder at his connection with his horses. It is an unrivalled display of a loyal and magic bond between rider and horse.
George Morris
George Morris is one of the most highly regarded equestrian USA team members ever. He took Olympic team silver in 1960 and Pan American gold in 1959. But it is since he stepped back from riding himself that he has become a hero in his own right. He has been the chef d'equipe of many leading teams and is now a coach and clinician. He is rightly regarded as one of the foremost equestrian coaches in the world.
Margie Goldstein Engle
Margie Goldstein Engle is a hero of modern American showjumping. She is the most successful US Grand Prix rider ever. She has been American Grand Prix Association rider of the year a staggering eight times. She was also the first to place one, two, three, four and five in a single Grand Prix class. But it is more than her achievements on her horse which have won her the admiration of millions and made her a figure to aspire to for youngsters. The tales of how she has overcome setback after setback to become such an esteemed rider gives hope to millions who want to be like her. In particular, the story of how she overcame parental objections to her ever riding in the first place has given many children hope for their future in the sport.Not only this, but Margie has also bounced back from several serious falls, most notably one where her foot and ankle were literally crushed. But in true Goldstein Engle form, Margie was back in the saddle a remarkably short time after the fall – while she was still using crutches to help her walk.
Michael and John Whitaker
Closer to home there have been many, many showjumping and equestrian heroes over the years. These include Royal names such as Princess Anne and now her daughter Zara Phillips, but also the people from ordinary backgrounds who made it their dream to compete for their country on horseback. Nowhere is this more evident than in Michael and John Whitaker, the brothers from Yorkshire. They were born into a family which loved to ride and were taught themselves to ride by their mother. In the 1990s they both held the world number one spot, one after the other. There have been scores of other achievements too, and it is riders like these who inspire the children sitting on ponies around Britain today.
This is, of course, just a selection of names. They are a wide and varied bunch, but give an indication of the scope of horsemanship and achievements which have been on display throughout the last few years. There is no definitive list of showjumping heroes, as everyone has their own idol. There are so many people in riding who have achieved so much; to even try and list them all would take many, many pages. The important thing to remember when looking for equestrian heroes is that they come from all walks of life, not necessarily, as some would have you believe, a privileged background, but from every group of people in society. There really is a hero for every new rider to aspire to be like.
You might also like...