Cross Country Riding and Jumping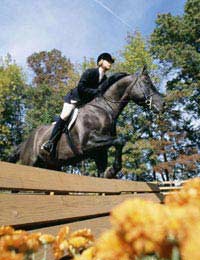 Cross country riding is a popular sport and the second discipline in eventing. It is a demanding and challenging sport for both horse and rider but those who master it, show a tacit understanding between animal and rider and will gain in confidence from that alone. Within eventing the rider has to complete the cross country course within a set time. If they fail to complete it in this time, penalty points are awarded against them, which can be the difference between a placing in major competition and missing out. As such, many riders take risks to complete the course in as quick a time as possible. This fact alone means a rider needs to have plenty of experience under their belt before they begin.
The Four Sections of Cross Country
Cross country riding is made up of four sections. The first two are the two roads and tracks stages. These are followed by the steeplechase with jumps and then finally, there is the cross country section itself which mostly comprises obstacles. This final section is incredibly demanding and can be up to four miles long with as many as 36 cross country fences.
Types of Fences and Jumps
These can be up to 3' 11" high on the most challenging courses. The width can also be huge – ditches can be as wide as 11' 10" – a daunting prospect for even the most experienced team. There are also lots of different types of jumps. Log fences, or palisades as they are also known, are a straight and solid jump. The horse and rider need to be bold to attempt them.
A triple bar is a log fence with three horizontal bars on it and a spread has poles of varying heights. A corner fence looks, and is, complicated and is also called an apex. It is made up of two logs raised up and forming an angle. This can be anything up to 90 degrees. These often result in run-outs.
Table fences are a flat surface made of logs which the horse should run along. They are a good fence to start beginners to cross country on as they are rarely refused.
But there are more advanced jumps which should only be attempted by riders with experience of cross country. These include the tiger trap. This is a triangle of logs commonly found on advanced circuits.
Another advanced jump is the trakehner. This is a rail over a ditch. The higher the level of circuit, the bigger the ditch will be.
Cross country riding, and indeed eventing in general, is a fun and exciting sport but is certainly not for the faint hearted or unfit. Horses and riders should be used to each other, and riders in particular must be used to riding for long periods of time before they even start to attempt cross country circuits. But, for those who are brave enough to try it, and talented enough to master it, cross country riding is an exhilarating and rewarding sport. It will certainly keep both rider and horse fit, and improve their work as a team, which in turn, will help them excel in all areas of riding and equestrianism.
You might also like...