Different Types of Jumps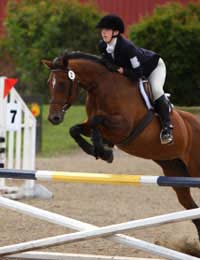 There are many different types of jumps including show jumps and cross country jumps. There are a variety of all of them, aimed at both experienced and less experienced riders and horses. Each different type of jump should be approached in its own unique way. Each one will present a new set of challenges for both horse and rider and test their teamwork.
Show Jumps
There are plenty of different types of show jumps but here is just a selection:
Vertical – A vertical jump is the most simple type. They are upwards jumps with no width and consist of poles on top of one another. They are probably the easiest jump to master.
Oxer / spread – An oxer is a jump comprising two verticals next to each other. It gives width as well as height. There are varying types of oxer including a square oxer which has level verticals poles, an ascending oxer where the second pole is higher and a descending oxer where the second pole is lower. A triple is also a type of oxer, but, as the name suggests, it has three poles rather than just two.

Hog's Back - A hog's back jump is a hard jump. It comprises several poles which are uneven, with the highest one usually in the centre.
Wall – The wall is a solid jump made up of lightweight bricks fashioned to look like a wall. It can be an intimidating jump because of its solid appearance.
Cross Country Jumps
Cross country jumps are usually very different to show jumps. Even in appearance they are noticeably different. They are usually very rustic and are made of rustic, organic looking materials. They are jumps which look at home in the countryside and fit in with their surroundings.
Cross country jumps comprise lots of jumps with ditches dug out of them. The logs are often set up to form angles as jumps, and palisades are straight and solid jumps. A good jump for a beginner to start on is a table fence which is made of a series of logs, fitting together as a table, for the horse to run along.
Water Jumps
Most jumps can be turned into water jumps with the addition of a trough or ditch of water on one or both sides of the jump. This makes the jump much harder. The horse will be expected to either clear the water completely or to land in it and run through it, which will obviously slow it down.
Jumps are usually found in combinations rather than on their own. They are normally set up in a circuit for a horse to take a set number of steps between them. Riders need to show boldness courage and agility to be successful jumper, while the horse needs to be familiar with all types of jumps. Train him on each one before he is expected to jump it in competition. And if you enter a horse into a jumping competition, always walk him around the course before the contest starts so you and he are fully prepared for all of the different types of jumps.
You might also like...